Zero suicide - is it achievable?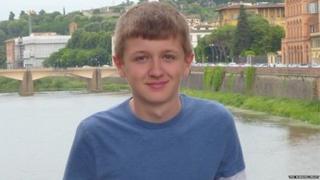 How much could the death toll from suicide be reduced?
Deaths by suicide annually in the UK are the equivalent of the likely number of fatalities if 20 long-haul flights crashed each year, according to campaigners launching the Zero Suicide Alliance.
Figures from the Samaritans show 6,188 suicides were recorded in the UK in 2015, an average of 17 per day.
How preventable are these losses of life with all the tragic consequences for bereaved families? And is zero suicide a realistic direction of travel?
The aim of the new alliance is to get specific commitments to reduce suicide deaths, and for NHS organisations to aim for zero amongst patients in their care.
At the launch there was an impassioned speech from Steve Mallen, whose 18-year-old son Edward took his own life in 2015.
He acknowledged there was greater national awareness of mental health as an issue but said there had been little change in recent years on the NHS frontline.
"Enough is enough", he said, "we can save more lives than at present". He called the current state of the mental health system an "indictment on society" and said frontline services were in a "terrible state".
Mr Mallen's hard-hitting comments and criticism of the state of mental health care were made in the presence of Jeremy Hunt.
The health secretary argued there had been an improvement in crisis care but said there was "lots more to do". Mr Hunt called on mental health trusts in England to commit to zero suicide among their patients.
Detroit success
There is cross-party support at Westminster for the new initiative.
Labour MP Luciana Berger and Norman Lamb of the Liberal Democrats both said they would try to sign up every MP to a new online suicide prevention training programme, which takes just 20 minutes.
The aim is to help identify people who may be having suicidal thoughts and talk openly to them, and then direct them to appropriate support services. The hope is that one million people nationwide will do the online training.
The Zero Suicide Alliance is already backed by about half of mental health trusts in England and a quarter of clinical commissioning groups.
It's an intriguing grassroots initiative which has gathered its own momentum. This is most certainly not a scheme devised in Whitehall and then sent out to the NHS as a tablet of stone.
The drive and energy has come from Mersey Care, a mental health trust, Dr Geraldine Strathdee, a former clinical director for mental health at NHS England and Steve Mallen.
Mersey Care derived its inspiration from pioneering work done in Detroit at the Henry Ford Hospital System, at which suicide was dramatically reduced over a decade and reached zero.
Prevention is the top priority, with patients seen for a wide range of physical conditions screened for mental illness.
It has been noted, though, that the hospital system's patients tended to be those with health insurance and might not include many of the poorest in the community.
'Liberated'
Mersey Care launched its zero suicide plan in 2015. This has involved extensive staff training. Every patient who comes into contact with trust services is assessed for suicide risk.
Trust directors carry out post-suicide reviews within 72 hours to learn what changes might be required. There is a promise of "no blame or criticism" but a requirement that staff and managers co-operate with the reviews.
There is not yet enough data to review the policy but the trust says progress has been made.
Mersey Care's chief executive, Joe Rafferty, told the audience at the launch event that the NHS "shouldn't be afraid of the power of zero".
He said staff were liberated by the zero suicide target.
The Zero Suicide Alliance's supporters say there should be a "public outcry" over suicide. They say its preventable and not inevitable.
They hope that public awareness, raised by social media, will help prevention while the NHS raises its game. Above all, they say, repaying a debt to bereaved families is their primary motivation.