Hormone pregnancy test 'no link to harm'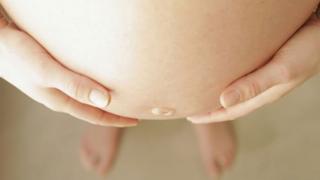 The use of a controversial hormonal pregnancy test from the 1950s to the 1970s did not damage unborn children, a scientific review has found.
The Commission on Human Medicines said the evidence did not support a "causal link".
The inquiry was set up by the UK government amid concerns the drug may have caused defects and miscarriages.
It was used in Britain between 1953 and 1975 - other countries stopped sooner.
However, the commission said that women who used the test and subsequently had babies born with defects would be offered genetic testing to see if any cause could be identified.
An electronic system for reporting side-effects during pregnancy will also be introduced to help identify problems with medicines that may occur in the future.
'Reassurance'
It is estimated that over one million women used the drug to test for pregnancies.
It worked by triggering a period if a woman was not pregnant.
Before that pregnancy tests required complicated blood tests.
Campaigners claim it caused birth defects in their children, such as blindness, deafness, spina bifida and heart and limb defects as well as cleft palates.
A previous report by independent experts in 2014 also found inconclusive evidence of harm, but this new review was ordered by ministers after fresh concerns came to light.
Legal action against Schering - the original manufacturer of Primodos - was halted in 1982 because of a lack of evidence.
Schering was subsequently taken over by Bayer.
Dr Alisa Gebbie, chair of the working group which oversaw the inquiry, said many thousands of pieces of evidence were examined during the review, and detailed testimonies had been gathered from families affected.
But she said there was simply not the evidence to suggest the drug caused defects or miscarriages.
She also said the findings should reassure women who still use the hormones - progestogen and oestrogen - that were used in the drug.
"Many women use these same hormones on a daily basis for contraception and heavy periods who may experience an unintended pregnancy. So our findings are also reassuring for them."
'We had high hopes'
Marie Lyon, who is chair of the Association for Children Damaged by Hormone Pregnancy Tests, was prescribed Primodos and later gave birth to a daughter whose limbs were not fully formed. She said she was very angry with the findings.
"They have ignored some of the evidence. It's a cover-up. We had high hopes this inquiry would get to the truth but it hasn't."
She said she would like to see a judicial review of the whole issue.