£1m for football brain injury research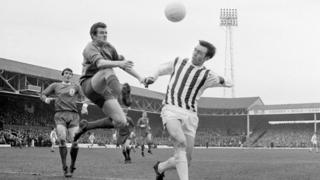 A charitable foundation funding medical research has said it will spend up to £1m on a study of brain injuries in footballers.
This follows a BBC documentary by the former England player Alan Shearer highlighting the potential long term risks of repeated heading of a ball and the plight of retired professional players who have developed dementia.
The Drake Foundation was set up in 2014 with a commitment to improve the understanding of concussion injuries in sport.
It has already backed research on the brain health of rugby union players.
'Urgent need' for football header research
Football headers 'linked to brain damage'
Alan Shearer: Making my documentary
Study into potential links between football and brain disease
The charity funded a recent study which after post mortem examinations found signs of the brain injury chronic traumatic encephalopathy (CTE) in four out of six former footballers who had developed dementia.
The research team at University College London (UCL) said the brains had seen the sorts of changes seen in ex-boxers associated with CTE.
But the UCL research team made clear that their study was far from definitive and a number of factors could have contributed to the players' dementia.
Alzheimer's Research UK said further research was needed on whether playing sport altered dementia risk.
Alan Shearer highlighted the case of Jeff Astle, the West Brom and England footballer, who developed dementia and died in 2002 at the age of 59.
A coroner ruled he had an industrial disease and that repeated heading of a ball had made a significant contribution to the cause of death.
A subsequent examination of his brain revealed CTE.
After the Astle inquest research was commissioned by the Football Association and the Professional Footballers' Association but it was later dropped because of what were said to be technical flaws.
Jeff Astle's family has campaigned for the football authorities to launch a comprehensive research programme.
Shearer said he found it "staggering" that 15 years on from Astle's death very little had been done to investigate the effects of heading a ball: "Nowhere near enough research has been done so far. For too long it has been swept under the carpet, which is why so many people are angry - and rightly so".
Astle's daughter Dawn says she has been contacted by the families of more than 300 former players with dementia.
Some have said they are willing to approve post mortem analysis and the creation of a "brain bank" if that advances understanding of the link between playing football and the risk of developing dementia.
Research in the US on the impact of American football has involved large numbers of autopsies.
A recent Boston University study of the brains of 202 former players found that 87% showed signs of CTE.
News of the funding by the Drake Foundation comes ahead of an expected announcement of a major research study by the Football Association.
Its understood it has taken the football authorities some time to determine the most rigorous and authoritative approach.
They want to be able to show whether there are higher rates of dementia amongst footballers than the rest of the population, and whether physical injury rather than heading might be a factor.
Dr Charlotte Cowie, the FA's medical performance director, told Shearer: "We have used a panel of experts in concussion and in research to try to help us formulate a study that gives us an answer as quickly as possible - if we can do - but, more importantly, gives us some results that are really reliable."
The BBC understands that the Drake Foundation wishes to complement the FA's research and will wait to see what is announced before deciding its own area of study.