NHS battle for money: Where will it end?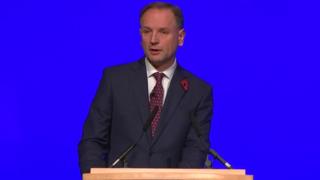 To say it was a high stakes gamble is probably an understatement.
The demand for more money ahead of a Budget by a senior public sector official looked unprecedented, certainly in recent years.
So how will Simon Stevens's dramatic call for more NHS funding play out and what's the endgame?
The head of NHS England is not known for making off-the-cuff comments.
Mr Stevens chooses his words very carefully and he had said little for several months.
But two weeks ahead of the 22 November Budget the gloves came off and he was warning that without a significant hike in funding, waiting lists for routine surgery in England would rise by 25% to five million.
In a barb aimed at Vote Leave campaigners in the Cabinet, he asked when the Brexit dividend of £350m a week extra for the NHS might be forthcoming.
The health world was enthused and praised his boldness in spelling out the reality of NHS finances.
Three health think tanks, King's Fund, Nuffield and Health Foundation, had all called on the same day for £4bn extra for the health service in England next year.
NHS England let it be known that this was the sort of figure Mr Stevens might have in mind.
The current financial settlement for next year is an increase of only 0.4% which, according to NHS officials, will not add up and will mean difficult decisions on rationing non-urgent care.
But it was not long before critical voices were heard.
Resignation call
Sir Nick MacPherson, the former permanent secretary at the Treasury tweeted: "Time for Mr Stevens to step down as an unelected public servant if he wants to campaign for more NHS funding or opine on Brexit."
It is fair to assume he was reflecting the views of some of his former colleagues.
One Conservative-supporting commentator described it as "outrageous and politically motivated".
Another, Allister Heath, writing in the Telegraph, saw it in the context of a vacuum in government with "every part of the state apparatus now freelancing".
He said Mr Stevens was making a "stridently political intervention".
The background to all this is that Mr Stevens has an icy relationship with Theresa May and Philip Hammond.
In January, at a Select Committee hearing, he challenged their version of government funding plans for health, holding up a copy of the Daily Mail with a headline about the NHS trailing the rest of Europe for doctor numbers.
They were not best pleased and Mr Stevens chose to remain silent for a while afterwards.
'Forward View'
Clearly Mr Stevens now feels the prime minister and chancellor aren't listening and that his message hasn't got through with the Budget not far off.
A public statement in front of network TV cameras and a health service audience, he seems to have believed, was the only remaining option.
It was all so different back in 2014 when Mr Stevens unveiled his Five Year Forward View and the government promised to raise annual spending by £8bn by 2020.
The deal was done behind closed doors with Mr Stevens enjoying a cordial relationship with the then Chancellor George Osborne.
The personal chemistry then helped deliver a Treasury spending review in 2015 which seemed favourable to Mr Stevens.
He has subsequently, though, argued he didn't get what he wanted for 2018 and 2019.
It's hard to see how this will end amicably.
Difficult choice
No chancellor likes to hear strident demands for cash from the public sector ahead of a Budget.
Mr Hammond is putting together his package of measures at a challenging time for the public finances and a strained relationship with Mr Stevens won't help negotiations.
If there is a significant financial settlement for the NHS in England, Mr Stevens can claim vindication for his strategy.
But if there isn't, he is faced with a difficult choice - either soldier on with a service under great strain and his five-year plan objectives under threat, or walk away.
He will be well aware of the risk he has taken with his speech.
But perhaps he is ready to go if he has to, arguing that at least he tried to get the NHS the money it needed.