Cervical cancer jab women will 'only need three smears'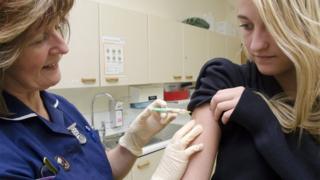 Women vaccinated against human papilloma virus (HPV) - thought to cause about 99% of cervical cancers - may only need three smear tests in their lifetime, a new study suggests.
Since 2008, the HPV vaccine has been offered to girls aged 11 to 13.
Reported cases of HPV have fallen sharply since then.
A team from Queen Mary University of London found that screenings at age 30, 40 and 55 would offer the same benefit to these young women as the current 12.
Prof Peter Sasieni, the lead author of the study, said cutting the number of smear tests for vaccinated women would make sense and save money.
"These women are far less likely to develop cervical cancer so they don't need such stringent routine checking as those at a higher risk," he said.
"This decision would free up resources for where they are needed most. The change in the screening system is a unique opportunity to reassess how often women are invited for cervical screens during their lifetimes."
'Great news'
The study, published in the International Journal of Cancer and funded by Cancer Research UK, comes ahead of changes being planned to the screening programme in England for 2019 and similar adjustments in Scotland and Wales.
At the moment, labs test for abnormalities in cells taken in a smear test but the new tests will check for the presence of HPV first and only check for abnormal cells if the virus is found.
The study says that when the new HPV testing first comes in, unvaccinated women should only need seven screenings in their lifetime, instead of 12.
Dr Julie Sharp, head of health information at Cancer Research UK said it was "great news" for women.
"While we hope to see these improvements to the screening programme in the future, it's important that women continue to take up invitations for cervical screening."
Sarah Farr, 34, from Barrow in Cumbria, was diagnosed with cervical cancer in November 2016. Her cancer was picked up early through a screening - she had surgery to remove the cancer and didn't need any further treatment.
She is very glad her seven-year-old daughter Maisie will be able to get innoculated and experience fewer screenings.
"Cervical screening can be quite an uncomfortable experience, but I'm forever grateful that the test spotted my cancer early.
"It would be great if Maisie doesn't have to have to go for screening as often as I did, because of the HPV jab and the new screening test."
Cervical cancer facts
Cervical cancer is one of the most deadly but most preventable forms of cancer in women
It is the most common cancer in women under 35
Around 3,000 cases are diagnosed every year in the UK and it causes 900 deaths
Public Health England says almost all the deaths are of older women who did not benefit from the HPV vaccination programme
Currently 85% of eligible girls are immunised and HPV vaccine rates in England are among the world's highest
The vaccine could save several hundred lives every year and also provide protection against other cancers and genital warts
Women aged 25 to 64 are automatically invited for cervical screening, which detects abnormal cell changes in the cervix
Source: Public Health England
New vaccine
Testing for HPV first will be rolled out into the English cervical screening programme over the next two years.
A new HPV vaccine is also expected to be introduced at some point from 2019. It should have a 90% success rate - up from 70% for the current vaccine.
With this new vaccine, the researchers believe vaccinated women will only need two smear tests in their lifetime.
Robert Music, chief executive of Jo's Cervical Cancer Trust, said while it is positive to see a potential reduction in screenings needed, focus must continue on increasing the uptake of the vaccination and screening programmes to ensure more women are able to benefit from these advances.
"We would urge the government to use any savings made as a result of reduced screening intervals to fund a national cervical screening awareness campaign.
"If we do not reverse falling screening attendance we will simply be faced with more lives lost to the disease which could have been prevented."
In July, immunisation experts decided there was little evidence to justify giving boys the HPV vaccine because high uptake among girls would reduce everyone's risk of HPV infection - but critics said the decision was concerning.
Who should have the HPV vaccine?
The HPV vaccine works best if girls get it before they come into contact with HPV - in other words, before they become sexually active.
That is why getting the vaccine during the teenage years is recommended.
However, girls who have already had sex should still have the vaccine if they are in the relevant age group.
Girls can have the HPV vaccination on the NHS up to their 18th birthday but they will need three doses, rather than the normal two, in order to be fully protected if they are over 15.
If you are not eligible for the vaccine, experts say the best protection against cervical cancer is to continue going for regular cervical screenings.
In the UK, women are invited for screening between the ages of 25 and 64, every few years.