We want our Brexit cash boost - NHS boss
By Nick Triggle
Health correspondent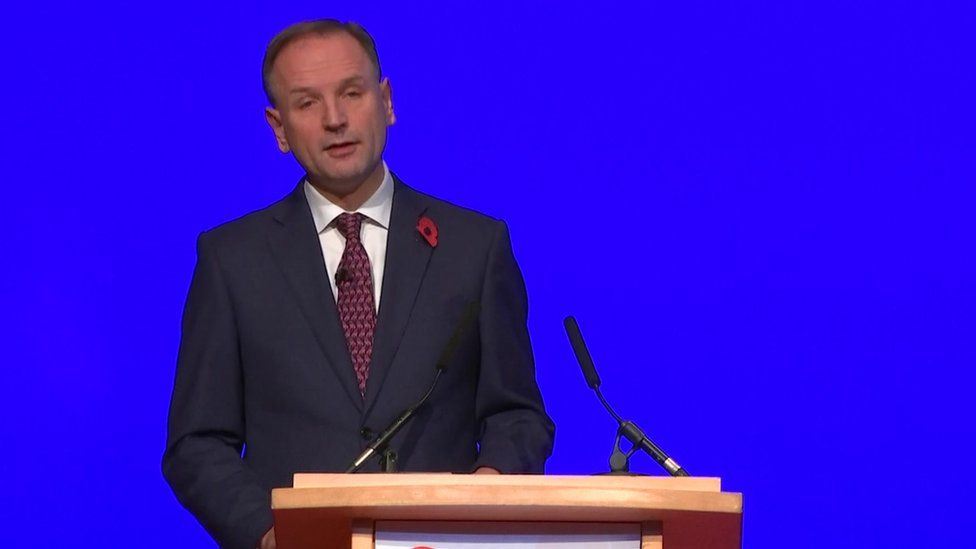 The health service should get the cash boost it was promised during the EU referendum, NHS England's boss says.
Simon Stevens used controversial claims used by Vote Leave - that the NHS could benefit by £350m a week - to put the case for more money in a major speech.
With waiting times worsening, he said trust in politics would be damaged if the NHS did not get more.
He said the budget had grown modestly in recent years, but those rises would "nose-dive" in the next few years.
He said if action was not taken the NHS would really start to struggle, predicting hospital waiting lists could grow by a quarter to five million by 2021.
The speech by Mr Stevens at the NHS Providers' annual conference of health managers is highly political, coming just a fortnight before the Budget.
'Honour the Brexit promises'
During the referendum it was claimed £350m a week was sent to the EU and that would be better spent on the NHS.
The claim was widely contested at the time and ever since - it did not take into account the rebate the UK had nor the fact the UK benefited from investment from the EU.
Some argued it proved highly influential in the referendum result.
Mr Stevens refused to be drawn on just how much money he was after - sources close to him said he was not specifically asking for an extra £350m a week, which would work out at an extra £18bn a year.
Instead, they said it just needed to be significantly more than had been promised to date if waiting times were not to worsen.
It comes as three highly influential health think-tanks - the King's Fund, the Nuffield Trust and the Health Foundation - published a joint report calling for an extra £4bn to be given to health next year.
That amounts to eight times more than health spending is due to rise by.
He told delegates in Birmingham: "The NHS wasn't on the ballot paper, but it was on the ballot bus, 'Vote Leave for a better funded health service, £350m a week.'
"Rather than our criticising these clear Brexit funding commitments to NHS patients - promises entered into by cabinet ministers and by MPs - the public want to see them honoured.
"Trust in democratic politics will not be strengthened if anyone now tries to argue, 'You voted Brexit, partly for a better funded health service. But precisely because of Brexit, you now can't have one.'"
He said the "modest" rises seen in recent years were set to "nose-drive" in the next two, with the budget growing by 0.4% next year and by less than 1% the year after once inflation was taken into account.
Mr Stevens said if that continued "choking" of investment happened the NHS would have to "turn back a decade of progress".
He warned a hospital waiting list of five million by 2021 was likely - meaning a 10th of the population would be waiting for treatment.
Currently, just under four million people are.
NHS Providers chief executive Chris Hopson has also given his backing to extra money.
He pointed out key targets for A&E, routine operations and cancer care were already being widely missed.
"The Budget is an important opportunity, at the beginning of this Parliament, to protect care quality for patients and service users and help the NHS break out of the downward spiral in which it is currently trapped.
"There isn't enough funding to cope."
The government has promised the NHS front-line budget will be £8bn a year higher by 2022 - once inflation is taken into account - than it is now.
But that does not take into account the whole health budget - which also includes spending on things such as training and healthy lifestyle services, like stop smoking services.
Once that is factored in, the current average annual increase are running at less than 1%, but that dips in the coming years.
Historically, the service has enjoyed annual rises of about 4% to cover the cost of the ageing population and new drugs.
A Department of Health spokesman said: "Research shows spending on the NHS is in line with most other European countries, and the public can be reassured that the government is committed to continued investment in the health service."