Online GP consultation: Opportunity or threat?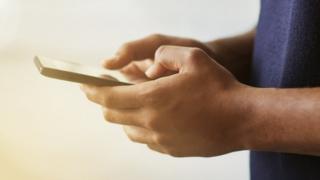 The launch of an NHS online GP service with video consultations has stirred up a lively debate.
Some see it as an obvious development, given public familiarity with banking and shopping on smartphones.
Others argue the service is undermining the ethos of the NHS by creating a two-tier system.
What's new about the latest approach is that patients will opt out of their existing GP surgery and join a group of five central London GP practices. Their NHS records will be transferred.
The smartphone app, run by the online provider Babylon, will allow symptoms to be checked and then offer a video consultation with a GP up to two hours later.
A one-to-one appointment with a doctor if required is promised within 48 hours at one of the central London surgeries.
NHS offers smartphone GP appointments
NHS launches £100m drive to recruit foreign GPs
Short GP consultations crazy, say GPs
Founders of the service, known as GP at Hand, say it will be available around the clock and should appeal to people with long commutes and working days who don't want to wait a week or more for an appointment at their local GP.
They argue that it will help the NHS by reducing the pressure on over-worked practices.
From a launch in Greater London, the plan is to extend it to other areas of England.
The service providers acknowledge that certain patients, including those who are pregnant, frail or with mental health problems, will always be best advised to see a doctor in person.
They say nobody will be barred from signing up and claim that for urgent cases appointments will be possible on the day and not after 48 hours.
But they will have to prove to patients that this is really deliverable and that they have the resources to meet any sharp rise in demand for care.
A GP practice is paid a fee for every patient signed up.
The new service will split the proceeds between the London practices and Babylon.
But that opened them up to the accusation by the Royal College of GPs that they will be creaming off the healthiest patients.
Twin-track fear
The RCGP argues that existing community practices will be left with lower revenue and having to look after the sickest with the most complex conditions, hence the claim that there was a danger of "twin-track" general practice evolving.
It is also concerned that some practices will be left with bigger recruitment problems because GPs are tempted to join the new online service.
The RCGP's strongly worded opposition to the launch comes not long after NHS England announced a £45m investment in online consultation systems for GPs.
These allow patients to connect with local surgeries and receive email replies or calls back as well as normal appointments.
The blurb with the announcement noted that these systems were popular with patients and "free up time for GPs, allowing them to spend more time managing complex needs".
NHS England's response to the GP at Hand launch was that it was "right to carefully test innovative new technologies that can improve free NHS services".
Existing online GP service providers argue that its best to weave new technology into traditional practices rather than set up new "virtual" services.
One of them, Econsult, facilitates digital triage options for patients, who can still maintain a relationship with their familiar GP.
The Ask NHS App, in the West Midlands, allows patients to check symptoms and be guided through to the local 111 service.
Rebecca Rosen, a practising GP and senior policy fellow at Nuffield Trust, gave the new service a cautious welcome but said there were still unanswered questions.
"Will they be able to offer continuity with one doctor who gets to know them? How easy will it be to avoid prescribing antibiotics - just to be on the safe side?"
GP at Hand will be closely watched by doctors and the powers that be at NHS England.
There are sceptics who remain to be convinced. But few would deny that digital offerings, whatever form they take, have an important place in NHS primary care.