NHS staff to help anxious school pupils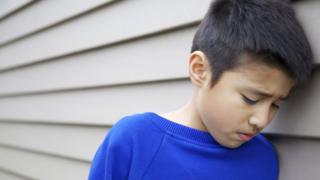 Many schools around the UK have counselling services and some bring in experts in child and mental health. But the Welsh Government's new scheme is the first to result from a nationally driven initiative, albeit initially in three pilot areas.
Specialist health staff will be on hand to offer advice and support to teachers at the pilot schools in North East, South East and West Wales to help tackle youth mental health issues.
The Welsh Government believes that getting mental health professionals into schools on a more regular basis - around a couple of hours a week - will help monitor the wellbeing of pupils before more serious complications develop. The £1.4m scheme will be funded from existing budgets.
Yoga sessions and apps for mindfulness therapy are part of one Welsh school's plans to promote mental health for their pupils.
Staff at Crickhowell High School have drawn up a wellbeing strategy in recognition of increasing pressures on teenagers, both academic and away from the classroom through channels like social media.
The school believes in partnerships with other agencies in the local community. There are monthly meetings with NHS mental health staff to discuss pupils with particular challenges. Children are encouraged to use counselling services in the school.
It was here that the Welsh Government's Health Secretary Vaughan Gething and Education Secretary Kirsty Williams unveiled what was billed as a unique initiative to improve mental health amongst schoolchildren.
They both emphasised the importance of Health and Education departments working together, something which might not have happened in previous years when a more silo-based mentality prevailed.
There are plans for a major policy announcement on mental health in schools in England within the next few months. Theresa May made clear her personal commitment to young people's mental health in a speech in January. The Department of Education was put to work on schemes to train teachers in mental health first aid and identifying concerns pupils might have. Health Secretary Jeremy Hunt has taken on the mental health brief from a more junior minister and will be closely involved in drawing up the policy document, known as a Green Paper. The challenge for Whitehall is to prove that Health and Education can work together like their Welsh counterparts.
No one doubts that the state of mental health of teenagers needs to be addressed by policy makers, though there is limited data to demonstrate how much more acute the problem is that in previous decades. Recent research suggested that one in four 14-year-old girls and one in 10 boys is showing signs of depression.
Ministers in Cardiff and Westminster now need to show that policy documents and pledges without new money really can make a difference.