MMR vaccine first-dose target met in England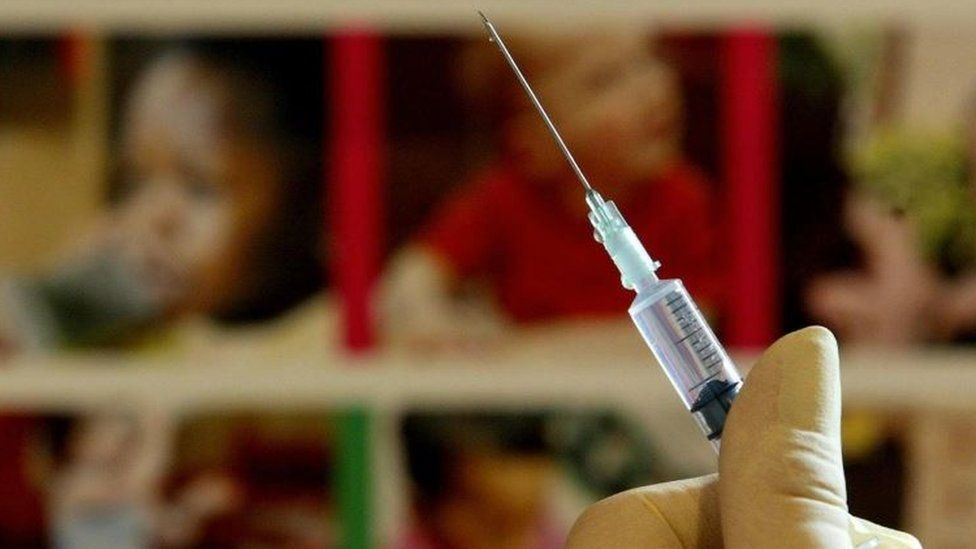 The percentage of children getting their first dose of the measles, mumps and rubella vaccine (MMR) by their fifth birthday has reached 95% for the first time, NHS data shows.
This meets a World Health Organization target. Coverage has been increasing in England for the past 10 years.
The NHS says children should have two doses of the vaccine before starting school.
But only 87.6% had received both doses by their fifth birthday.
The MMR vaccine is given on the NHS as a single injection to babies as part of their routine vaccination schedule, usually within a month of their first birthday.
They should then have a second injection of the vaccine before starting school, usually at three years and four months.
Figures published by NHS Digital show that coverage of the first MMR vaccine by the age of five was 85.9% in 2006-07, rising every year to 95% in 2016-17.
However, the percentage of children being vaccinated with the first dose by their second birthday has gone down for the third year in a row, to 91.6%.
MMR vaccination rates dipped after a panic caused by discredited former doctor Andrew Wakefield, who falsely claimed in the late 1990s that the jab caused autism.
Dr Mary Ramsay, head of immunisations at Public Health England, said: "England is considered to be a world leader in childhood vaccination, with one of the most comprehensive programmes in the world.
"As we are seeing small reductions in coverage for most other childhood vaccines, measured at 12 months in recent years, we continue to encourage all parents to get the best protection for their children by ensuring they are fully immunised with all their childhood jabs.
She added: "We are working closely with the NHS, and with staff in general practice where most vaccinations are delivered, to improve uptake."
Related Internet Links
The BBC is not responsible for the content of external sites.