Alcohol-free: Stealth drinking helping people give up alcohol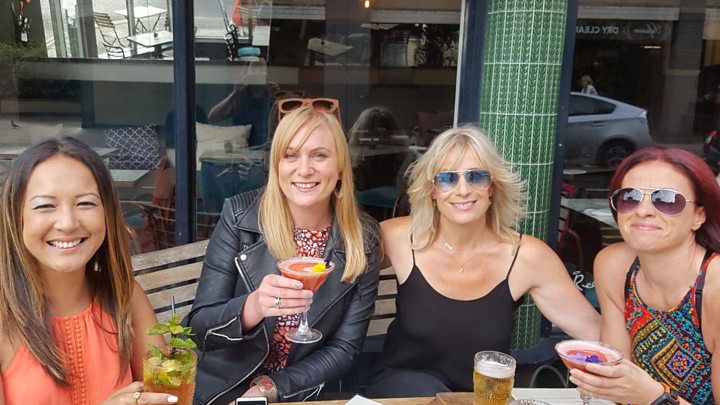 Amie used to drink 30 pints in a weekend to "keep up with the boys".
"I could neck three bottles of wine and not think about it," said the 38-year-old from Derbyshire.
Her drinking was so extreme that she contemplated suicide: "I thought well, stuff's got to change."
For Jennifer, it caused her relationship with her partner to break down: "I was like a different person when I was drinking - I had blackouts," she said.
A report last year found women are now almost on a par with men when it comes to problematic drinking.
Stealth drinking
Both Amie and Jennifer had had enough of hangovers - and decided to give up alcohol.
They are doing it with the help of one programme designed to help people stop drinking called One Year No Beer, a scheme people pay to join which gives them strategies to help them to go alcohol-free.
One tactic is known as stealth drinking, where people pretend their non-alcoholic drink is alcohol, for example by getting a non-alcoholic beer in a pint glass topped up with lemonade.
One Year No Beer has seen a 10-fold increase in membership this year alone.
The alcohol-free drinks market is booming too.
In only five years, the amount of low or alcohol-free beer sold in the UK has risen by nearly 50%.
And the world's first alcohol-free spirit Seedlip launched 21 months ago. In 12 months, it experienced a 1,000% rise in sales.
There are now clubs for people who want to get together without alcohol and the UK's first alcohol-free drinking festival was held in London last month.
The clubs and the festival want to cater for the increasing number of Britons choosing to give up drink.
A report by the Office for National Statistics in May found that just under 60% of those surveyed had had an alcoholic drink in the past week - the lowest rate since the survey began in 2005.
Another survey from 2015 found that one in four British people were thinking of cutting down their drinking or at least trying to reduce it.
Still, many who have made the change complain that there are few options in traditional pubs other than sugary soft drinks.
Prof Luc Bovens, an expert in public health at London School of Economics, has made a number of recommendations to British pubs aimed at "nudging" people away from alcohol.
"The road to hangovers is often paved with good intentions, but by tinkering with the British pub's choice architecture we may be able to help some people," he wrote.
He suggested that pubs provide a no-alcohol or low-alcohol beer on tap and added: "For many people, there is a distinct feeling of alienation in toasting proper pints with a sad little bottle."
'Absolute weirdo'
A spokesman for the British Beer & Pub Association said: "No-alcohol beers are bottled because the sales volume typically wouldn't support a keg option.
"Our members have a good track record. Within the beer category, we've seen brewers remove 1.3 billion units from the market by the drinks industry as part of the Public Health Responsibility Deal, through producing low strength, or no strength options and reducing the strength of existing products."
Jennifer said one of the biggest challenges comes from friends: "It's actually seen as bad or weird not drinking. It's like you're a minority, people look at you like you're an absolute weirdo."
But after 90 days of not drinking, her relationship with her partner is back on track and her life has improved: "Getting up on a Monday is not a problem. I can bounce out of bed."
Meanwhile for Amie, who has been alcohol-free for 16 months, the benefits have been vast: "I lost four stone. I train six days a week. And everything I want to do, I can go and do."