Learning disability care 'hangs in the balance'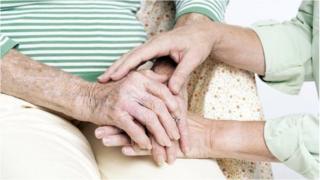 A leading provider of care for people with learning disabilities says it might have to pull out of some services if a row over back pay for staff is not settled soon.
Mencap says it might have to end its involvement in running more than 200 residential care homes and services affecting more than 2,000 people with serious learning disabilities. The services would have to be taken over by local authorities.
A government spokesman said further clarity would be provided in the coming weeks.
Pay row
Care workers who stay overnight at residential facilities used to be paid a flat fee. But HM Revenue and Customs said last year they should be paid at least the minimum wage for every hour they were on duty overnight, meaning they were owed around £60 rather than the figure of around £30 they had been paid for a nine-hour sleep-in shift.
Enforcement action is due from October with employers obliged to pay six years of back pay.
Mencap and other charities representing care providers say the total bill is likely to be around £400m, and that the government must pick up this bill otherwise there could be "chaos in the sector".
Mencap is now paying its care workers the minimum wage for each hour of an overnight shift but says the government must cover any back pay.
The issue was highlighted in July and ministers said then that enforcement action would be delayed until October while the issue was considered. But the charities say with less than a month to go, no solution has been proposed by the government and contingency plans have to be drawn up.
Mencap says its back pay liability is £20m, which is more than the cash it has in reserve. If the money has to be found for pay over the previous six years it would blight the charity for a decade.
Mencap chairman Derek Lewis said: "Learning disability care in the UK hangs in the balance - if government fails to fund or offers only partial funding, Mencap could be forced to take action to hand back services that do not cover costs."
Smaller care-providers say they might have to shut down completely.
The chief executive of a West Midlands charity said it would become insolvent which would be "a catastrophic step not only for the people we support, who are amongst the most vulnerable in society, but also for our staff and families".
A Department of Health spokesperson said: "As the public would rightly expect, we are working closely with representatives of the social care sector to see how it might be possible to minimise any impact on provision of social care as a result of historic underpayment of the national minimum wage.
"We have kept campaigners and charities up-to-date and hope to provide further clarity in the coming weeks."