Patient payment proposals for extra GP care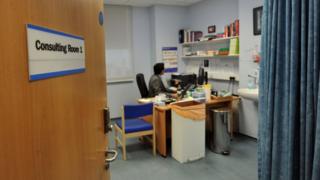 GPs should be able to charge patients for some procedures such as vasectomies and mole removals, proposals by Dr Prit Buttar, of the Oxfordshire local medical council, suggest.
He says the plans would allow GPs to increase the overall money available to treat patients.
Health officials say there are strict rules in place to stop GPs charging their own patients.
Meanwhile, the doctors union say staff shortages are a more urgent issue.
'Incredible pressure'
Current NHS rules prevent GPs charging their patients, except in very limited circumstances.
But Dr Buttar says he wants this to change, particularly for procedures such as vasectomies that he feels are underfunded by NHS contracts.
Together with a small group of GPs, he is looking into the possibility of third parties charging patients and passing on the fees to surgeries.
And he says if his initial proposals are successful, they could be extended to offer out-of-hours appointments.
But an NHS England representative said: "All patients have a right to access high quality primary care services which are free at the point of delivery.
"Strict safeguards are in place to ensure that GPs cannot charge patients for NHS services."
Meanwhile Dr Chaand Nagpaul, of the doctors' union, the British Medical Association, said providing free care to every patient in GP surgeries was something the vast majority of doctors supported.
He added: "Irrespective of this scheme and its aims, the immediate priority is for the government addresses the incredible pressure on GP services, which is facing a severe shortage of several thousand doctors."
---
We want to hear from you if the NHS has changed your life, positively or negatively, in 2017.
This could be following a cancellation of a routine operation, or the impact of the care of an exceptional nurse or carer, or any other experience with the NHS.
If a visit to your hospital, A&E or GP had a life-changing impact on you in 2017 let us know.
Email us at haveyoursay@bbc.co.uk with your stories.
Please include a contact number if you are willing to speak to a BBC journalist. You can also contact us in the following ways: