Five health stories you may have missed this week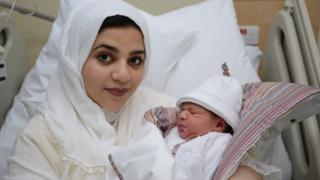 Here is another chance to see five of the best health and lifestyle stories from the last week.
1. Medical breakthrough
This week, Moaza Al Matrooshi gave birth to her son. The 24-year-old is thought to be the first in the world to have a baby after having an ovary frozen before the onset of puberty. She had chemotherapy as a child and had some of her ovarian tissue frozen at the age of nine. Moaza, whose son was delivered at the privately run Portland Hospital in London, told the BBC: "It's like a miracle. We've been waiting so long for this result - a healthy baby."
2. The boy saved on Christmas Day
The Victoria Derbyshire programme featured Ben Cooper who had only just started walking when he was struck down by meningitis. His mother Viki explained how a life-saving operation was carried out on Christmas Day at Great Ormond Street Hospital by neurosurgeon Mr Owase Jeelani. Ben, who is now two-and-a-half spent, three months in hospital.
3. Mannequin display
NHS pressures were explained in a completely different way this week when the BBC drama Casualty allowed a BBC News team, plus off-duty NHS staff, to take over its set to tell that story via a mannequin challenge.
4. Heart-warming tale
One inspirational story this week has been that of Collette, a young woman from the US with Down's syndrome who started her own cookie baking business after being rejected as "not a good fit" by potential employers. She is now trying to expand her company into other states so that she can offer employment to others.
5. And finally...
It's the Christmas party season - it must be time for the BBC News booze calculator which will show how your drinking habits compare to the average in countries around the world? See if you are similar to a boozy Belarusian or a teetotal Kuwaiti...
Are there any health or lifestyle issues you'd like us to cover? Join the conversation - find us on Facebook.