Staffordshire A&E unit could be downgraded in £542m savings plan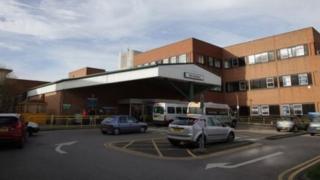 One of three A&E departments in Staffordshire could be downgraded as part of plans to save £542m.
More than 260 hospital and community hospital beds could close, along with bigger GP centres serving up to 70,000 people.
All local health and care providers in England are putting together five-year sustainability and transformation plans to make savings.
The changes will cost £120m, a spokesman said.
More updates on NHS plans and other stories from Staffordshire
Penny Harris, programme director said: "It's no secret that our health and care economy is facing enormous financial and other pressures and all local health and care organisations accept the case for change, and support the overall direction of travel.
"Our plan gives us the basis of the detailed discussion we now need to have with all our communities, including health and care professionals and non-clinical staff, and we hope that as many people as possible will get actively involved in shaping the services of the future."
The plan was published as Communities Secretary Sajid Javid has been outlining how councils in England will be able to raise hundreds of millions of pounds through a rise in council tax to spend on social care.
---
Staffordshire and Stoke-on-Trent's Sustainability and Transformation plan (STP):
Increase services delivered in the community through 23 specialised "multi-disciplinary" teams based around local populations in the county of between 30,000 - 70,000
Encourage more people to live healthily and when they are ill, to provide them with the tools and technology to help manage their conditions
Reduce reliance on bed-based services by improving community services, with people returning to their homes after treatment as quickly as possible
Creating planned care centres of excellence to improve health outcomes, reduce duplication of services and make best use of NHS and local authority land and buildings
Simplifying the urgent and emergency care system and reduce waiting times
---
Under the proposals, 167 community hospital beds could close, 85 at Longton and Cheadle and 20 at Haywood Hospital.
It is not clear yet which A&E unit could be downgraded, but officials said any specific areas will go out to public consultation, with decisions not being taken until the end of 2017.
Mental health services will also be looked at and "treated on an equal basis with [a person's] physical health needs", the report said.
Officials estimate that by 2019, the number of people aged 85 and over in Staffordshire will rise by 22% putting pressure on health services.
State of care for the over-65s
1.2 million
people with care needs go without help
4 in 10 people in care homes pay for themselves

300,000 fewer people receive council-funded help than four years ago

£100,000 or more spent on care by 1 in 10 people
SPL