Hospital admissions in England reach new high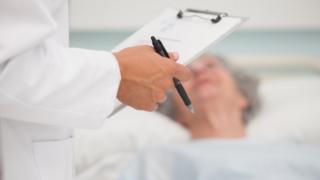 Hospital admissions in England rose to record levels last year with people aged 65-69 making up the largest group of patients.
According to figures from NHS Digital, that continues the trend of the past decade, during which admissions have gone up by 28%.
But the average length of a hospital stay has gone down from 6.6 days to under five days over that time.
The figures include planned and emergency admissions.
Statistics on admissions were gathered from more than 300 NHS trusts and 200 independent providers of NHS services.
'Baby boomers'
Between 2005-06 and 2015-16, the number of admissions for patients aged over 45 increased by nearly 44%, compared with a rise of less than 9% for those aged 44 and under.
In the so-called "baby boomer" group, there were 1.3m patients aged 65-69 admitted to hospital in 2015-16 - an increase of 57% on 2005-06.
Patients in their 80s and 90s, who make up a smaller group of patients, saw similar rises over the past 10 years.
The average age of a patient in England in that period has increased from 49 to 53.
While the population of England has grown by 8% - to 54.8m - over the past decade, hospital admissions have shot up at more than three times that rate, from 12.7 to 16.2 million.
Shorter stays
John Appleby, director of research and chief economist at the Nuffield Trust, said an ageing population and the development of new treatments and procedures could explain some of the rise.
But he said the drop in the length of time patients stay in hospital was also important.
"As a result, the NHS is able to use beds more efficiently and move more patients through the system more quickly."
He said the NHS was used to working at its limit under great pressure with 95% of beds occupied during the winter.
The NHS Digital figures also show that hospital procedures involving the bowel and colon, the stomach and the respiratory tract have all shown the greatest increases in the past 10 years.