Thousands of NHS staff may have paid too much tax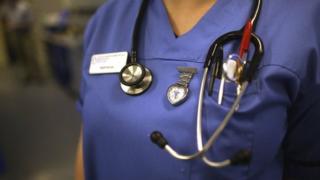 Thousands of NHS workers could have overpaid thousands in income tax and National Insurance, the BBC's Victoria Derbyshire programme understands.
The error, which dates back to 1999, applies to certain NHS employees who did Widening Access Training (WAT).
Some workers have received rebates of up to £24,000, but others complain they have struggled to get any response from tax authority HMRC or their NHS trust.
HMRC said it was working closely with NHS trusts to get refunds paid.
It said the error was down to individual NHS trusts' payroll services deducting too much tax from employees' pay.
The WAT training scheme allows NHS employees - including midwives, clinical psychologists, doctors and nurses - to undertake training at colleges and universities to widen their professional knowledge.
Those who met certain criteria, including being paid less than £15,480 while they were training, should not have paid income tax or National Insurance.
'Incredible sums'
One clinical psychologist from Sheffield, who wanted to remain anonymous, told the BBC she received a cheque from HMRC for £17,000 and has been told another £7,000 is on its way.
"When the rumour went round that we might be owed money, we started applying for it," she said.
"So far I've received three cheques. It's incredibly confusing, but I think I'm due a couple more. People are getting incredible sums. I personally feel incredibly lucky for it."
A written question to the chancellor by Labour MP David Hanson found that more than 8,000 people had been paid refunds in the past four financial years.
Amounts ranged from several hundred pounds up to tens of thousands, suggesting the total amount overpaid could to stretch to millions of pounds.
HMRC is understood to have set up a dedicated team to process the large number of refunds due.
---
Am I owed a refund?
The issue applies only to certain NHS workers who did training under the Wider Access Training (WAT) scheme between September 1999 and March 2015. Manchester Mental Health and Social Care Trust has published extensive guidance explaining who is eligible.
To be eligible, they must have been NHS employees or on a "contract of training" at the time, and being paid less than a certain threshold - currently set at £15,480 - including lodging and travel and subsistence payments but not tuition fees.
HMRC advises workers who think they may be owed a refund to contact their NHS trust in the first instance. It also warns that in some circumstances claiming a refund could affect an individual's state pension or tax credit entitlements.
---
However, others say they struggled for more than a year to get their claims approved and complain they found out they were due money only through word of mouth.
Ben Dawson, another clinical psychologist, said he chased his NHS trust and HMRC for 18 months before finally getting a rebate of £11,000.
"It took a year of wrangling. You can phone every day for weeks and never get through to them.
"On the other hand it's money none of us ever expected to have so I'm very grateful to get that money."
'Utter shambles'
MoneySavingExpert.com, which has been investigating the issue, said tens of thousands of NHS workers could be owed money.
Managing editor Guy Anker said: "It's an utter shambles between HMRC and the NHS trusts.
"There is confusion about the rules, variances in what claimants get, and despite it being money they never should have paid in the first place, employees are essentially being put off from getting their money back.
"HMRC needs to issue clear guidance on both tax and National Insurance rebates to all trusts, and regardless of who's at fault, anyone enrolled in this scheme going forward needs to have the correct deductions made automatically through payroll."
Neither HMRC nor NHS Employers said they held figures for the number of people due refunds, or the total amount owed.
An HMRC spokesman said: "We are working closely with NHS trusts to ensure that all those who overpaid tax and National Insurance receive refunds as soon as possible."
He said the refunds were due only in very specific circumstances, and that HMRC was seeing a lot of applications from people who were not due refunds.