Infertility problems: One man's experience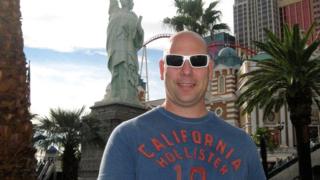 A study published this week suggests sons may inherit fertility problems from their fathers, but what help is available to men with infertility issues?
Three years ago, Chris Bellas, a deputy sheriff from Philadelphia, Pennsylvania, was diagnosed with teratospermia, meaning a proportion of sperm are misshapen and will have difficulty swimming towards an egg.
Chris and his wife Rachel tried Icsi, a form of IVF, two rounds of which cost them their life savings.
Chris says the diagnosis left him "dumbfounded" and worried for his marriage, and while his wife could find help online, he felt there was little assistance for, or understanding of, infertility in men.
"More and more people are being affected by infertility problems," he says. "Let the world know how hard it is on everyone."
---
Chris was diagnosed with teratospermia three years ago. "We were trying for a year," he says.
"Nothing was happening. I went to get checked, my wife went to get checked. When we got the results, it was me. I was devastated. I thought we couldn't have a baby.
"I felt worthless. Everyone was having babies and we couldn't."
Chris says he did not like to talk about it, and colleagues would "bust" him about it.
"I thought, 'You can't be a man'. Your wife gets emotional and there's nothing you can do.
"I was not in my right mind. I was wondering if my wife would leave me.
"As a deputy sheriff we have a psychologist at work and I saw her every other day. I did not feel like a man. I felt heartbroken for my wife who desperately wanted a child. We discussed how not to worry so much, to take time, to find happiness in other ways."
---
Chris never smoked, never took drugs and found himself asking, 'Why me?'
He believes the answer lies with his father's service in the Vietnam War. "My father was exposed to Agent Orange. My dad had cancer from it twice."
Although Chris would like the government to disclose more about the effects of Agent Orange, he says the lawyers whom he consulted advised there was up to "10 more years of study needed".
"I was born with teratospermia," he says. "My brother is a haemophiliac, my sister's kids have problems."
---
Chris had never heard of IVF before beginning the process and was put under further pressure by the cost of treatment.
"With IVF, the sperm is put next to the egg and the sperm does the work. With Icsi, they inject the sperm into the egg.
"We had to try Icsi as my sperm was deformed and could not go through the egg by themselves.
"In the United States, insurance companies will not cover IVF or Icsi, but insurance, like Blue Cross or Blue Shield, cover abortions.
"We put about $26,000 on credit cards and I worked two jobs for seven months, my wife worked two jobs. "
---
As well as hoping insurance companies may one day pay for IVF, Chris wants men to be more honest about fertility problems. However, he warns when doing so "you really know who your friends are and might lose a lot of friends".
His advice for men in a similar situation is to get tested at the outset to prepare for a problem, "then you can deal with it".
"It's important to talk to other guys and talk about how they felt. You can get depressed, you do or say things you wouldn't normally do.
"Try online forums. My wife met girls online with similar problems, but there aren't groups out there for men. There are foundations which can help you with the procedure and to connect with other people, but it's for women mostly, not for men."
---
Although the first round of Icsi did not work, the second round was a success.
"At the first scan I thought it was a dream come true," he says. "I was crying and emotional. I did everything for my wife, I wouldn't let her lift a thing!
"$36,000 of our savings later, we now have a beautiful little girl!"
Now he and Rachel are about to begin a second cycle in the hope of a brother or sister for their daughter.