Childhood vaccinations 'down again'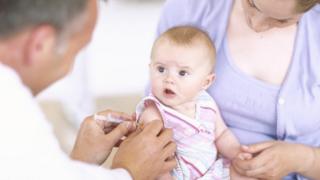 The percentage of under-twos in England receiving most routine vaccinations is down slightly for the third year in a row, NHS figures show.
Uptake of the first dose of measles mumps and rubella (MMR) vaccine, given at around one-year-old has also fallen - to 91.9% coverage in 2015-16.
MMR coverage has been falling in recent years, the NHS Digital data shows.
In the UK, the target for immunising children is 95%, which is enough to prevent the diseases spreading,
Children should receive their first dose of the MMR vaccine after their first birthday, and then a second dose between the age of three years and four months and five years old.
In 2015-16, only 88.2% of children had received both doses by the age of five - a slight decrease from the 2014-15 figure after steady improvements in previous years.
The MMR vaccine was introduced in 1988. Controversy around a since-discredited link between the vaccine and autism and Crohn's disease is thought to have affected MMR coverage in the late 90s and early 2000s.
But since 2008, campaigns to improve vaccination rates have seen coverage rise again.
The percentage receiving the first dose of MMR peaked in 2013-14 at 92.7%, falling slightly the following year, and again this year.
Lowest in London
In 2015-16, 93.6% of children in England received their first course of immunisations - the 5-in-1 vaccine - which protects against diphtheria, tetanus, pertussis, polio and Hib (haemophilus influenzae type b), and are given at two, three and four months of age.
The figure compares with 94.2% coverage for the 5-in-1 vaccine in 2014-15, and 94.3% in 2013-14.
There was some regional variation in childhood vaccination rates across England.
Uptake was highest in the North East (96.8% in 2015-16) for all routine childhood vaccinations at one, two and five years old and lowest in London (89%) .
NHS Digital said vaccination coverage in England in 2015-16 was below that of other UK countries for all routine childhood vaccines measured at one, two and five years old.
Prof Peter Openshaw, president of the British Society for Immunology, said the fall in vaccination rates across England was "extremely worrying".
He added: " We are behind many countries in our vaccine uptake, exposing our children to risks of potentially harmful and even fatal diseases.
"It is crucial that local authorities and the NHS take joint action to reverse this trend. There needs to be sufficient funding and skills to be able to both communicate the benefits of vaccination and to deliver vaccines efficiently and effectively to the people who need them."