Working on the obesity rescue front line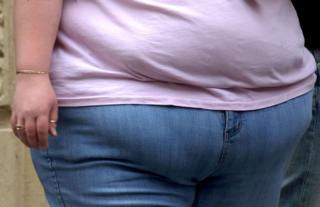 The number of obese people being rescued by the fire service has increased in the last three years.
In the past year there were more than 900 incidents in the UK.
Darren Sharman, 39, from London worked for 10 years in the private ambulance sector. He helped obese people who were unable to move themselves, to get to hospital.
He told the BBC about his experience: "We dealt with the most extreme patients; they would be coming up to, and often exceeding, 660 -770lb (300-350kg) in weight.
"They would call us out on jobs where a patient needed to be extricated using specialist equipment and we would use stair-climbers, hoists and lifting equipment to remove them.
'Less stigma'
"The vast majority of people I encountered were obese because of medical reasons - lymphedema in particular. Some were partially mobile, some were wheelchair-bound and some were completely bedridden. All of them needed specialist transportation to hospital, quite often for emergency reasons.
"There was one situation where we were called to a particularly large patient who was in a basement flat - they had a cardiac problem. There was a rear courtyard (behind the flat) which was tiered and so we hoisted the patient up, tier-by-tier, until we got them up on to street level. It took both an NHS ambulance and our company to secure their release.
"You need to think outside the box on these things. A lot of people worried about being a spectacle and so the one thing that we specifically focused on was making sure that didn't happen.
"There's a lot more provision now than there used to be, a lot more understanding, a lot less stigma.
"The population has always been there, but it is without a doubt a growing trend. It's a vicious cycle that quite often involves mental health and it doesn't easily get better."
By Daniel Avis, BBC's UGC and Social News team