Senior doctors react to planned series of five-day strikes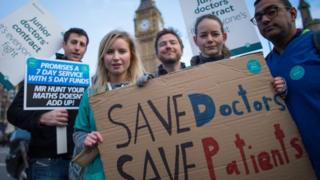 Senior doctors are urging the government and junior doctors to restart negotiations to avoid a series of five-day strikes in England.
While some medical colleges have said the planned strikes are disproportionate, others say they support the junior doctors' stance.
The British Medical Association (BMA) announced four five-day walkouts between now and mid-December.
Junior doctors are striking over a new contract which is being imposed.
The row over their pay and conditions has escalated into the worst industrial relations dispute in the history of the NHS.
Hospitals will see junior doctors stage walkouts from 08:00 to 17:00 from:
Monday 12 September to Friday 16 September
Wednesday 5 October to Tuesday 11 October (although the weekend will be covered)
Monday 14 November to Friday 18 November
Monday 5 December to Friday 9 December
The Academy of Medical Royal Colleges, which represents 22 royal colleges, issued a statement saying it was "disappointed" and said the proposed strikes were disproportionate.
It added: "Five days of strike action, particularly at such short notice, will cause real problems for patients, the service and the profession."
But, separately, the Royal College of Radiologists and the Royal College of Paediatrics and Child Health, said they could not support the statement, revealing a split in the views of medical leaders.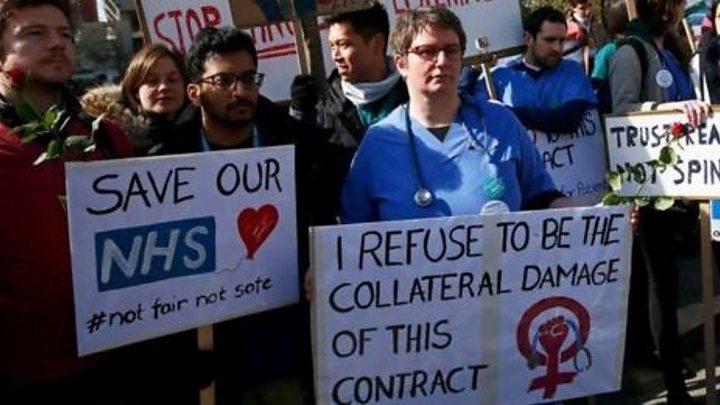 The Royal College of Radiologists said: "Once again, we call on both parties to restart the discussions and reach a workable solution as soon as possible, to avoid further distress to and impact on patients.
"Each individual junior doctor will make up their own mind on taking strike action - and we should all respect those decisions."
'No harm'
Prof Neena Modi, president of the Royal College of Paediatrics and Child Health, told the Today programme that her college was supporting junior doctors and had no concerns about the safety of patients during the strikes.
"To my best knowledge, I know of no instance of any children who were harmed during the last strikes," she said.
"I have absolute confidence that my consultant colleagues and all of the other doctor groups, and indeed those trainees who choose not to strike, will actually rally to ensure that patient safety is placed first and foremost."
BMA junior doctor leader Dr Ellen McCourt said the government could stop the strikes by calling off the imposition of the contract, which is due to be rolled out from October.
She said junior doctors still have "serious concerns" with the contract.
"The government has consistently said this is about creating a seven-day NHS, when junior doctors already work weekends and it's been shown that the government has no answer to how it will staff and fund extra weekend care."
'Damaging dispute'
However, many leading health bodies have said the strikes should be called off because they could harm patients.
The action threatens to cause chaos in the lead-up to winter - the busiest time of year for the NHS.
Simon Paterson Brown, a council member of the Royal College of Surgeons of Edinburgh, which represents more than 10,000 doctors in England and Wales, told the BBC there should be negotiations - not strikes.
"All industrial action at any time is likely or has the potential to endanger patients' safety.
"Obviously with advance notice and short-term industrial action these can be mitigated to an extent. But if we could manage the health service without the trainees then we would be doing so already."
The Royal College of Anaesthetists, the Association of Anaesthetists of Great Britain and Ireland and the Faculty of Intensive Care Medicine issued a joint statement urging the BMA and the government to "negotiate urgently to reach a settlement to avoid escalating this damaging dispute".
They added: "We fully recognise that there is still genuine concern among junior doctors about the new contract but are very concerned that such strikes could impact significantly on patient care."
Kathy McLean, executive medical director at NHS Improvement, also questioned the decision to strike, urging junior doctors to call off the walkouts.
Health Secretary Jeremy Hunt described the strikes as "devastating news", predicting it would lead to the cancellation of 100,000 operations and one million appointments.
Prime Minister Theresa May called on doctors to stop "playing politics" in the dispute and urged the union to cancel the strikes.
Longer impact
Meanwhile, Nigel Edwards, chief executive of independent health charity the Nuffield Trust, said the latest strikes would be significant for senior hospital staff, who stepped in for junior doctors during the last strikes.
He told BBC Radio 4's Today programme the action could also have a long-term impact on hospitals, which could lose funding because of cancellations.
"They are all in quite serious financial trouble and if they lose three weeks' worth of planned care income, that is a big deal."
Katherine Murphy, of the Patients Association, said she was "gravely concerned" about the prospect of the five-day strikes, which would have a "catastrophic impact".
---
The worried patient
Simon Emmott has a kidney stone and is waiting for surgery.
"I can't see that the strikes won't delay my surgery. There are only two people at the hospital that can carry it out, meaning I already have a four-week waiting time.
"I've been to A&E with abdominal pain twice in the last week. I constantly feel nauseous and I'm in constant pain. I have to take very strong painkillers which make me drowsy.
"I work from home as an IT consultant and I have to balance taking enough painkillers so I can work through the pain, but not so many that I'm too dopey to work.
"I'd really like to believe the doctors have the patients' best interests at heart but it doesn't seem right. They've been arguing about this for three years."
---
Hamed Khan, a GP in south London and a member of the BMA national council who voted in favour of the strikes, said the public "appreciates that [junior doctors] have patients' interests at heart".
"I think they also appreciate that junior doctors work incredibly hard," he added.
Labour leader Jeremy Corbyn said Mr Hunt should stop treating NHS staff as the enemy.
---
The imposed contract
Basic pay to rise between 10% and 11% on average
Supplements paid for frequent weekend working - those working one in two will get 10% on top of basic salary
Nights to attract an enhanced rate of 37% above normal time
Replaces old system whereby weekend or night work can attract up to double time
First doctors to go on new terms in October with much of the rest of the workforce to follow by next summer
The British Medical Association says it is not fair on those who work the most weekends or part-timers
---
Junior doctors have already taken part in six strikes this year, including two all-out stoppages.
Industrial action was put on hold in May when the two sides got back round the table at conciliation service Acas.
That resulted in the agreement of a new contract, which BMA leaders encouraged members to accept.
But when it was put to the vote, 58% of medics rejected it, prompting the resignation of the BMA junior doctor leader Johann Malawana and causing ministers to announce once again that they would impose the new terms and conditions.