Breathlessness lung disease warning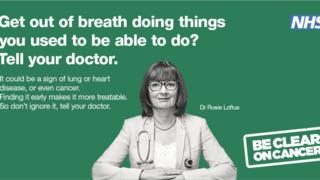 People with persistent coughs, or who get out of breath doing things they used to be able to - such as running for a bus or mowing the lawn - should see their doctor, a new campaign warns.
Public Health England and health charities want to raise awareness of the warning signs of lung conditions - including cancer - and heart disease.
Finding them early makes the illness more treatable, PHE says.
The campaign is predominantly aimed at men and women aged 50 and over.
Older people are most at risk of:
coronary heart disease, the main type of heart disease and the single biggest cause of death, accounting for more than 56,000 deaths in England each year
lung cancer, the biggest cancer killer, accounting for about 28,400 deaths each year
chronic obstructive pulmonary disease (COPD), accounting a further 24,000 deaths
PHE estimates 1.7 million people in England could have one of these conditions without knowing:
a million with COPD
600,000 with coronary heart disease.
80,000 with lung cancer
Prof Kevin Fenton, PHE's national director for health and wellbeing, said: "This campaign will help people recognise the symptoms and encourage them to seek help, potentially saving lives from what are three of the biggest causes of death in England."
Paula Chadwick, chief executive of the Roy Castle Lung Cancer Foundation - one of the many charities backing the campaign, said: "So many people may otherwise 'shrug off' something like a persistent cough, yet to do so can have potentially devastating consequences.
"Anyone with a cough for three weeks or more should go and see their GP to get it checked.
"You have nothing to lose by making the appointment, and it could ultimately save your life."