Record amount of fake Viagra seized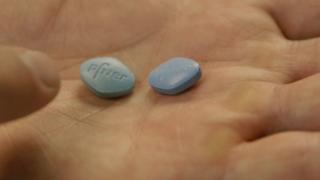 More unlicensed erectile dysfunction drugs were seized in the UK by the authorities last year than ever before - worth more than £11m. The Victoria Derbyshire programme joined a raid to find out why they are a problem.
The market for unlicensed Viagra is huge and most of it heads for the internet, where pills are sold for £2 to £3 each. These tend to be imitations or a generic Indian version of the drug - Kamagra - which are shipped to the UK in bulk, packaged up and posted on.
But what the computer-based consumers may not realise is the pills are made in unhygienic, unregulated locations and could contain toxic chemicals like lead and arsenic, the agency which regulates medicines says.
The Medicines and Healthcare products Regulatory Agency (MHRA) conducted its biggest-ever operation last week in an attempt to find the fakes, with search warrants at 24 properties conducted by 50 officers across London.
Speaking outside a suburban street where one of the raids was taking place, Danny Lee-Frost from the MHRSA says: "When you log on to a website and you see a picture of a scientist in a white coat and stethoscope, it all looks above board. But your medicines are not coming from a pharmacy, they are coming from a street like this.
"We've recovered medicines that are being sold from a shed in a back garden that was damp and rotten, there were rats and mice crawling all over the stuff."
Viagra is a prescription drug, meaning it needs to come from a doctor or pharmacist. But doctors believe there are many more people buying it on the internet and using it in a completely unregulated way.
Dr Hamed Khan GP said: "I've had a number of people who've had very serious side affects like visual problems, people could potentially faint, you could have dangerous reductions in blood pressure or even potentially heart problems."
So how do you spot a fake? At a counterfeit testing lab run by Pfizer - the drug company that makes Viagra - they examine products from around the world, and have found counterfeits in 111 countries.
They can tell by the colour of writing on the pack, while the actual tablets might be a different shade of blue. They then test them by taking a small amount and looking at its chemical footprint.
Pfizer vice-president Tommy Dolan says people may not know they are buying counterfeit products if they have nothing to compare them with.
"Sometimes the match can be close enough that the counterfeit is reasonably good, other times due to a lack of medication or too much medication in the product or agents that have been added that shouldn't be in the product that are toxic, the patient could come to significant harm," he says.
From 2014 to 2015 the MHRA seized fake Viagra valued at £3,890,516 from a yearly total of counterfeit drugs of £8,696,067. From 2015 to 2016 this had tripled to £11,205,342, making up 90% of counterfeit drugs seized that year.
While no pills were found at the property we saw being searched, the agency has £25m of fake medicine collected over the past few years in its lock-up.
Where is the demand coming from?
Mr Lee-Frost says there is a strong youth market for the drug. "It's used by adult males who don't actually have the medical condition which this could be prescribed for. They use it as a sexual enhancement for the weekend."
Dr Hamed Khan adds: "Increasingly younger people have been trying to obtain Viagra as they see it as a sort of recreational drug almost and it boosts them psychologically, which it absolutely doesn't, it's a drug that only has physical effects and that misconception is leading to younger people trying it even if they don't need it."
After dozens of searches and three arrests, the agency finds some bags of pills, but it is not as much as they had hoped. They believe the only way to win is to stop people buying it.
Watch the Victoria Derbyshire programme on weekdays between 09:00 and 11:00 on BBC Two and the BBC News Channel.