Junior doctors strikes: 'Over 100,000 treatment delays' says NHS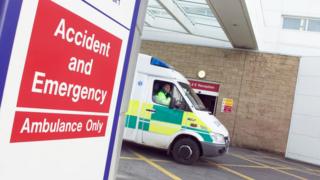 More than 100,000 patients are expected to have their treatment disrupted as a result of next week's strike by junior doctors, NHS England says.
It says 112,856 outpatient appointments and 12,711 planned operations in the two-week window surrounding the strike are set to be put back.
But it says all trusts have plans to provide emergency and urgent care.
The BMA says it regrets the disruption but argues the government's own plans are bad for patients in the long-term.
The figures published by NHS England refer to operations and appointments postponed during the period between 18 April and 2 May.
Specific numbers for 26 and 27 April - when junior doctors plan to stage a full walkout from 08:00 to 17:00 BST each day - have not been released.
The last strike which started on 6 April led to more than 5,000 operations and procedures being postponed as a result of the 48-hour walkout.
For the first time in the history of the NHS, next week's strikes will see junior doctors walk out of accident and emergency, urgent maternity services, resuscitation and mental health crisis teams.
And sources close to the government say a longer planning process has been necessary because of the unprecedented nature of this strike.
Consultants, staff doctors and other healthcare staff will be drafted in to help in urgent and emergency care, and tried-and-tested plans are in place to deal with disruptions, NHS officials say.
In addition there will be more GP appointments available during the strike, NHS 111 will have increased call handling capacity and ambulances have been asked to offer extra support.
Dr Anne Rainsberry, national incident director for NHS England, said it was with "enormous regret that we find patients put in this position."
She added: "The NHS has been pulling out all the stops to minimise the risks to the quality and safety of care but this is an unprecedented situation during a time of heightened risk."
The British Medical Association said it had given trusts several weeks' notice to plan ahead.
A spokesman added: "Junior doctors deeply regret disruption to patients but they are taking this action because they fundamentally believe the government's plans will be bad for patient care in the long term.
"Crucially, there is still hope this action can be avoided. The BMA has been clear that it will call off next week's action if the health secretary removes the threat of imposition and returns to negotiations.
"It is not too late for the government to listen to the many voices raising concerns about its plans, get back around the negotiating table and end this dispute through talks."
NHS England has put together a website with information for people needing healthcare over the strike period.