A&E suffers 'worst ever month'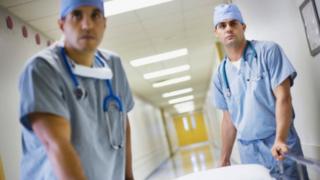 A&E delays in England have reached record levels, official figures show.
The data for January from NHS England showed 88.7% of patients were dealt with in four hours. The target is 95%.
That is the worst monthly performance since the target came in in 2004.
NHS England blamed rising demand - overall attendances were up by more than 10% compared with the same time last year. There was also a sharp rise in emergency admissions and calls to NHS 111.
Other parts of the UK are also struggling with Scotland, Wales and Northern Ireland also missing the A&E target.
The monthly performance publication also showed the NHS was struggling in other areas:
the target to see patients needing routine operations within 18 weeks was missed for the second month in a row
the key cancer target for patients to start their treatment within 62 days of an urgent referral from GP was missed for the 20th time in 21 months
twice as many people waited six weeks or longer for a diagnostic test than should have
NHS 111 failed to hit its target to answer calls within 60 seconds
ambulances missed their target to respond to the most critical calls in eight minutes - one in three patients waited longer - the eighth month in a row it has not been hit
Delays in discharging patients also continue to be a problem. In January there were nearly 160,000 days of delays - the second highest on record.
These are delays patients experience when there are not the services available in the community to release them, despite them being medically fit to leave hospital.
The result is a backlog of patients which has a knock-on effect in A&E.
Richard Barker, from NHS England, said: "Against this backdrop it's not surprising hospitals saw a dip in their performance and it is credit to all those working in emergency care that we are still admitting, treating and discharging almost nine in 10 patients within four hours
"Winter pressures have come late this year with a sustained cold period and an increase in seasonal infections."
During January the BBC reported how hospitals were being forced into taking extreme measures to cope.
Some cancelled routine operations en masse, while there were reports of GPs being advised to cut back on hospital referrals and emergency treatment areas being set up outside A&E units.
Dr Cliff Mann, of the Royal College of Emergency Medicine, said: "It is now routine for many staff to arrive at work faced with congested and overcrowded departments in which it is impossible to deliver best care.
"Similarly many leave work, hours after their agreed finish time, exhausted by the scale of the task."
John Appleby, of the King's Fund, said the NHS was facing a "perfect storm".
"Today's figures underline the scale of the challenge for NHS trusts struggling to meet demand for services within current financial constraints.
"Most trusts are operating with very high bed occupancy which makes it difficult to respond to unexpected fluctuations in admissions. This is compounded by delays in discharging patients, which prevents beds being freed up for new patients. Today's figures suggest it will be a long winter for the NHS."