Women to be offered their own £3,000 'birth budgets'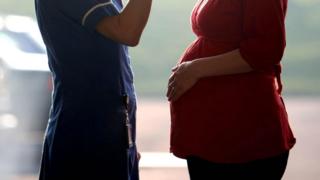 The NHS in England is to offer pregnant women their own "personal budgets", worth at least £3,000, so they can pick and choose the care they receive.
Women will be able to use it to pay for anything from one-to-one midwifery care to home births in pilots due to start later this year.
The move is part of a shake-up in maternity care unveiled by NHS England to increase the choices women have.
The overhaul is also aimed at improving safety in maternity services.
It has been agreed to on the basis of recommendations from an independent review of services.
This was set up by NHS England in the aftermath of the inquiry published last year into the failures that led to the deaths of babies at the University Hospitals of Morecambe Bay NHS Trust.
The review - chaired by Conservative peer Baroness Julia Cumberlege - said it had never been safer to give birth in England, but improvements still needed to be made to ensure care was "world class".
---
Births and safety
The numbers of stillbirths and deaths soon after birth have fallen by over a fifth in the past decade to 4.3 and 1.8 per 1,000 births respectively
In half of all stillbirths, there are elements of care that if improved could have made a difference
Nearly half of all inspections of maternity services resulted in safety assessments that were classed as either "inadequate" or "requires improvement"
In about one in 17 births, there are incidents that result in some level of harm to either the baby or the mother
Is a birth budget a good idea?
---
It also highlighted the £560m spent each year by the NHS on clinical negligence cases relating to maternity care.
The review took evidence from thousands of families about their experience of maternity care and found they "did not always have confidence" that complications would be picked up or problems investigated properly.
To improve care, the review has called for:
better data collection
speedier referral when problems arise
a nationally-agreed way of investigating care that goes wrong
Women also complained about the lack of choice they were given, despite existing policy stating they should be able to choose where they give birth.
Nearly nine in 10 women give birth in hospital, but just one in four says this is where she would want to have a baby.
The review concluded there should no longer be an automatic assumption that a woman would give birth in hospital.
Baroness Cumberledge told the BBC personal budgets would give women "more clout and more opportunity to exercise the choices that they want".
"Women are telling us that one of the things they really want is continuity of the person looking after them... who looks after them through the pregnancy, through the birth and through the aftercare, and we know that's going to make a huge different to safety," she said.
Royal College of Midwives chief executive Cathy Warwick said she was "delighted" with the plans, but warned more midwives would be needed to make these ambitions become reality.
There are currently 21,500 working in the NHS, but the college believes another 2,600 are needed.
---
Births and choice
664,543 births in England in 2014
87% of births took place in hospital
11% in midwife-led units
2% at home
---
Personal budgets are already used by the elderly, disabled and those with long-term conditions such as heart disease.
The system for maternity care, to be piloted later this year before a national rollout in 2017, would give women a notional budget they could then use on whichever NHS-accredited services they liked.
These could include:
private midwifery services providing one-to-one support during pregnancy and labour
a home birth
the use of a birthing pool
hypnotherapy to relieve anxiety and pain
extra breastfeeding support after birth
The details have yet to be fully ironed out. But the review authors said low-risk, standard births cost the NHS about £3,000, so women could expect that sum at the very least although more may be given if circumstances demand it and anyone needing urgent care because of complications would get it regardless of whether their personal budget had been spent.
NHS England chief executive Simon Stevens said the review had set out a five-year strategy which the health service could now work towards, while Health Secretary Jeremy Hunt said it was a "significant moment" and would give women more choice and make services safer.
But James Titcombe, who became an NHS safety adviser following the death of his son Joshua at Morecambe Bay Hospital in 2008, urged caution.
"Community births and home births are cheaper and my concern is that a push to expand that needs to be done very, very carefully because the evidence about safety is questionable," he told the BBC.