Junior doctors' row: BMA rejects 'final' contract offer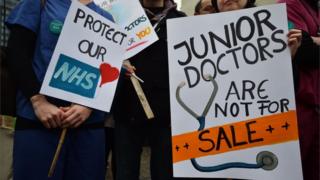 Junior doctors' leaders have rejected a "final take-it-or-leave-it" offer made by the government to settle the bitter contract dispute in England.
The offer included a concession on Saturday pay, but the British Medical Association said it was not enough.
The development is expected to lead ministers to announce that they are going to impose a contract on doctors.
The news has emerged as doctors took part in their second 24-hour strike - which ended at 08:00 GMT on Thursday.
The contract offered by the government would have seen those working at least one in four Saturdays get extra pay for each of the Saturdays they work. The move represented a more generous offer than previously, when the bar for extra pay was set at one in three.
The proposal also included increasing fines levied against trusts for over-working doctors, and increasing the extra pay medics get for very long hours.
The offer was made on Tuesday evening, on the eve of the strike, and rejected by the BMA on Wednesday afternoon when the walk-out was in full swing.
During the strike doctors provided emergency cover, but the stoppage led to the cancellation of nearly 3,000 routine operations and treatments. GP care was largely unaffected.
The junior doctors row explained
Analysis: Time for the nuclear option?
What exactly do junior doctors do?
The offer was made by Sir David Dalton, the hospital chief executive brought in by ministers last month to broker a deal in the bitter dispute.
In his letter to the British Medical Association (BMA) on Tuesday, he said it was a final offer and that if it was rejected it would mean there is "no realistic prospect of a negotiated agreement".
But the BMA rejected the offer, sticking to its stance that any Saturday working should attract higher pay.
The letter reiterated the union's proposal made previously that basic pay be increased by only about half the 11% offered by ministers to help pay for it.
'Patronised'
The government is now waiting for Sir David to confirm that he sees no way of resolving the dispute.
It is then expected ministers will move to impose a new contract on England's 55,000 junior doctors, who represent a third of the medical workforce.
The new contracts would then come into force from August. They would apply to all new junior doctors immediately but would also be imposed as existing junior doctors changed their rotations - it is expected 80% would be on it within six months.
It is unclear at the moment how the BMA will respond to that prospect, although their mandate allows them to call more strikes.
BMA junior doctors leader Dr Johann Malawana said the government had "attacked" and "patronised" the profession.
"The health secretary can end this dispute, but he must put politics to one side and concentrate on agreeing a fair contract that delivers for patients."