Junior doctors' row: Time 'running out' to reach deal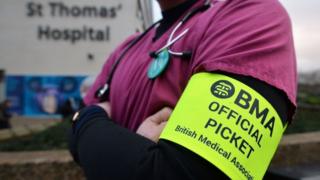 Time is running out to agree a deal with junior doctors in the long-running dispute, a key government negotiator is warning, as doctors in England take part in their second 24-hour strike.
NHS Employers boss Danny Mortimer, who has led the talks for ministers, said the NHS needed "certainty".
It comes amid mounting speculation ministers are ready to force a contract on England's 55,000 trainee medics.
The latest strike is due to end at 08:00 on Thursday.
The walk-out has already led to the cancellation of nearly 3,000 non-emergency operations and treatments, as well as causing disruption to routine check-ups and appointments.
Follow our live coverage here.
Mr Mortimer told the BBC that imposition of a contract was a matter for ministers.
But he said that during talks, the government's team had responded to a "whole series of concerns and issues" which had led to an "improved contract offer".
"This issue, which has now been going on for four years in terms of trying to find a new contract, can't go on for ever.
"The NHS needs some certainty in terms of how it moves forwards," he added.
Hospital bosses have told ministers they will need to let the health service know this month whether they are going to proceed with the contract as rotas and staffing arrangements need to be reviewed before contract offers are made in May.
But any move to impose a contract is likely to be accompanied by a review of training covering areas outside the contract negotiations. It is unclear exactly what this will include, but ministers are believed to see it as a way to try to soften the anger forcing the deal on to the profession will cause.
The BBC understands that the Government is set to announce a review of junior doctors' training in England covering areas outside the contract negotiations
Responding to questions about imposition, Health Secretary Jeremy Hunt said he hoped it "doesn't get to that".
He said the contract on offer would mean "we can offer better care for patients".
But BMA junior doctors' leader Johann Malawana said the government should not force a contract on doctors and should "put [the] NHS before politics, patients before machismo".
Formal talks at the conciliation service Acas broke down in January and at the moment there are no more planned.
The key sticking point appears to be payments for working on Saturdays, following progress in other areas including patient safety and night-time shift patterns.
The government wants Saturdays to be classed as a normal working day, but the British Medical Association has said it will forgo half of the 11% rise in basic pay it has been offered to keep Saturday premium payments.
But as tensions rise, hospital leaders and patient groups have urged the two sides to have one last go at reaching a deal.
Chris Hopson, chief executive of NHS Providers, which represents hospitals, said: "This really does need to reach a conclusion.
"I think the ideal conclusion would be for employers to make a fair and final reasonable offer and for the BMA to accept it."
And Katherine Murphy, of the Patients Association, added: "A lasting agreement must be found to prevent still further disruption for patients and raise the morale of hard-working junior doctors."
---
Want to know more?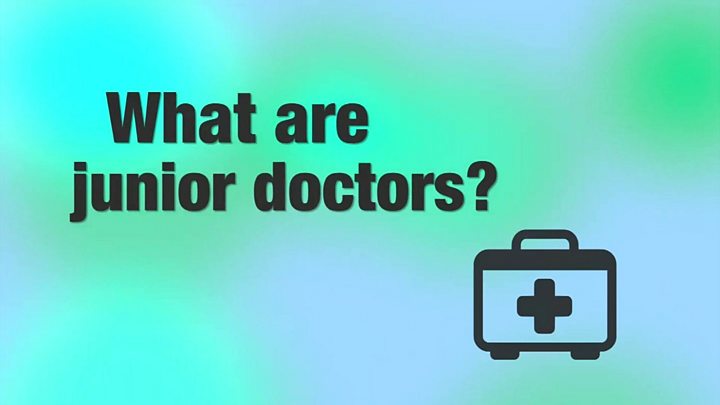 The junior doctors row explained
How close did both sides get to a deal?
What exactly do junior doctors do?
Analysis: Time for the nuclear option?
---
During Wednesday's strike, junior doctors are once again providing emergency cover, while consultants are still working in hospitals and GPs in the community.
NHS England said just over 40% of junior doctors had turned up to work - although it is thought the majority of these would have been those who were working in emergency care.
Dr Anne Rainsberry, of NHS England, said the health service was doing "everything possible to minimise the impact" and 92% of operations would go ahead as normal.
She said staff were "ready to respond to any significant increases in pressure" on hospitals during the strike.
---
Are you taking part in today's industrial action? Are you a patient whose operation has been cancelled due to the strike? Let us know about your experiences. Email haveyoursay@bbc.co.uk with your stories.
Please include a contact number if you are willing to speak to a BBC journalist. You can also contact us in the following ways: