NHS 111 'missed chances to save sepsis baby William Mead'
By Michelle Roberts
Health editor, BBC News online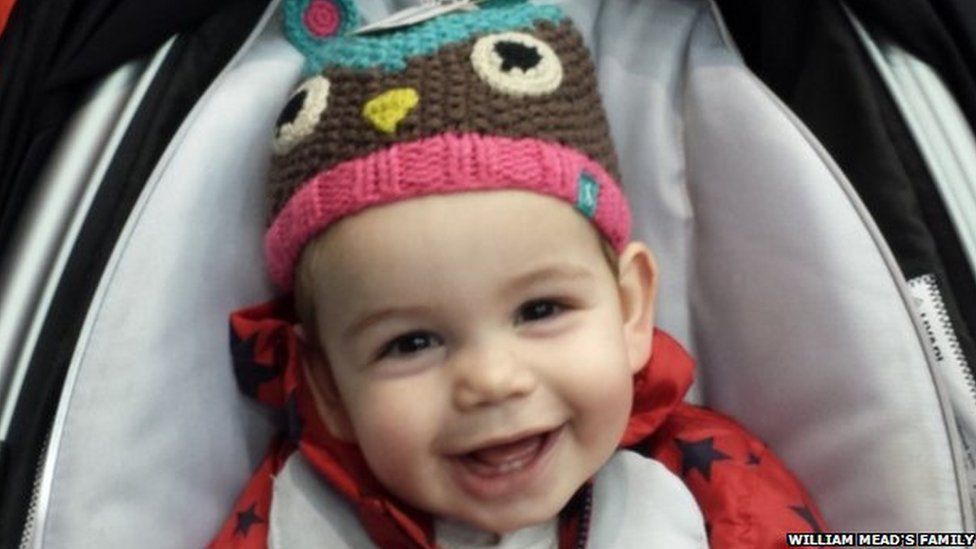 Doubts have been raised about whether England's NHS out-of-hours helpline is able to identify serious illnesses in children, after a baby died of blood poisoning following a chest infection.
NHS 111 call handlers are not medically trained, and a report on the 2014 death of William Mead, from Cornwall, said he might have lived if they had realised the seriousness of his condition.
The NHS England report said GPs had also failed to diagnose him.
It urged better recognition of sepsis.
But it said that if a medic had taken the final phone call, instead of an NHS 111 adviser using a computer system, they probably would have realised William's "cries as a child in distress" meant he needed urgent medical attention.
Melissa Mead, William's mother, said doctors told her "not to worry" and NHS 111 said "it's nothing serious" before her son's death.
Speaking about sepsis, she said "hardly anyone knows what it is" and called for better awareness among GPs and parents.
Twelve-month-old William, from Penryn, died on 14 December 2014.
At that time, the cause of death was put down to natural causes, but a coroner's inquest in June 2015 found he had died from treatable blood poisoning - known as septicaemia - caused by a long-standing chest infection.
Mrs Mead had taken him to the GP numerous times in the months leading up to his death.
The report, seen by the Daily Mail and BBC News, details the opportunities missed to save William's life. It found:
William's GP had not recorded all of the relevant information in his notes
William's symptoms had not been recognised as something more serious
The advice about what his parents should do over the weekend if William's condition worsened had been inadequate
The out-of-hours GP service had not had access to William's primary care records
The pathway tool used by NHS 111 advisers had been too crude to pick up "red-flag" warnings relating to sepsis
"Had any of these different courses of action been taken, William would probably have survived," the report said.
It said call advisers needed to be trained to spot when there was a need to probe further and when to escalate cases.
It also called for better recognition by GPs of the signs and symptoms of septicaemia.
Lindsey Scott, director of nursing with NHS England in the South West, said: "Everyone involved in this report is determined to make sure lessons are learned from William's death, so other families don't have to go through the same trauma.
"None of this detracts from our profound regret at the loss of William. For that loss, on behalf of all NHS organisations involved, I would like to apologise publicly to Mr and Mrs Mead."
She said staff at the local NHS 111 service had since been given extra training to recognise when cases might be more complex and need referring up.
Mrs Mead said: "We are glad the report has shown up there were failures and missed opportunities. We hope from the recommendations made this never happens again.
"We fought the hardest battle to get answers, knowing we had already lost William."
Sepsis is when the body's immune system goes into overdrive in response to infection
This can cause organ damage, shock, and eventual death
Sepsis is known as a 'silent killer' because it can be difficult to identify
It is common - it is the second biggest cause of death after cardiovascular disease
It can arise as a consequence of a variety of infections - the most common sources are the lung, and urinary tract
Sepsis can affect people of any age, but is most common in the elderly and the very young
Signs of sepsis include fever, breathlessness, shivering and mottled or discoloured skin
Health Secretary Jeremy Hunt said it was a "tragic case" and apologised for the "serious failings".
He said: "The recommendations are far far-reaching with national implications.
"When you look at the totality of what the Mead family suffered, there is a confusion in the public mind which the NHS needs to address.
"The issue is that there are too many choices and you can't always get through quickly to the help you need. We need to improve the simplicity of the system so when you go to 111 you aren't asked a barrage of questions and you get the care you need more quickly."
He said there had already been a renewed push to educate GPs on the signs of sepsis, but that there was also scope for a public awareness campaign.
Shadow Health Secretary Heidi Alexander added: "We owe it to the parents [of William] to implement the recommendations."
Related Internet Links
The BBC is not responsible for the content of external sites.