Junior doctors' strike: Get back to negotiating table - Hunt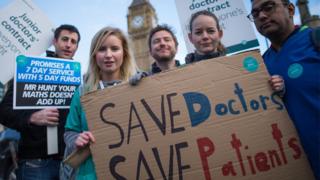 Junior doctors have been urged to return to the negotiating table by Health Secretary Jeremy Hunt, who described their 24-hour strike in England as "completely unnecessary".
NHS England said about 10,000 junior doctors had reported for duty out of 26,000 scheduled to work the day shift.
Thousands of routine operations have been cancelled during the walkout in protest at a proposed new contract.
The BMA said the strike sent a "clear message" to the government.
"We deeply regret the level of disruption caused, but this is a fight for the long-term safety of patients and junior doctors' working lives," said Dr Johann Malawana, chair of the British Medical Association (BMA) junior doctors' committee.
He said that junior doctors had "no confidence" in the new contract.
NHS England apologised to affected patients, and said trusts would try to reschedule cancelled appointments and operations as soon as possible.
'Hardly surprising'
The walkout, which began at 08:00 GMT, comes after talks between the union and government failed to reach agreement on the proposed new contract. The BMA is concerned about pay for weekend working, career progression and safeguards to protect doctors from being overworked.
But ministers have argued the current arrangements are outdated and changes are needed to improve standards of care at the weekend.
NHS England said more than 3,300 operations had been cancelled on Tuesday - about one in 10 of those planned.
Several hundred more operations have been impacted in the days before and after the strike.
Emily Rogers, from Cheltenham, told the BBC she had been due to have an operation to insert a new feeding tube, which had taken four months to arrange.
"I thought doctors got into [their profession] less for monetary value and more for how rewarding it was," she said.
Junior doctors on strike
31,000
operations were scheduled for Tuesday
3,300
of those operations have been cancelled
55,000 junior doctors work in England

37,000 are members of the BMA

26,000 were due to work on Tuesday

10,000 or so turned up for work
Science Photo Library
There are more than 55,000 junior doctors in England, a third of the medical workforce, although just over 37,000 are BMA members.
Junior doctors who support the industrial action are providing only emergency cover during the 24-hour period.
BBC health correspondent Nick Triggle said it was thought many of the 10,000 doctors who turned up were medics who had agreed to work to cover emergency care, although a few thousand were also likely to be doctors who were not members of the BMA and not taking part in strike action.
The BMA said: "Since we asked junior doctors who would be covering emergency care to go into work today it is hardly surprising that they have done so along with those who are not members of the BMA."
---
The Sandwell Hospital saga
By BBC Health editor Hugh Pym
This was supposed to be a day of clear dividing lines with junior doctors going on strike, except those on shifts for urgent and emergency work.
But the understanding clearly broke down at Sandwell Hospital in the West Midlands.
The trust wrote to local junior doctors in a letter dated 11 January, saying they all needed to work because of an "internal incident" and that it anticipated high patient demand.
Under an agreement struck with the BMA, hospitals can recall striking doctors in the event of life-threatening emergency scenarios.
But the BMA argued Sandwell had not acted in line with the agreement and so instructed members not to heed the hospital management's call.
An awkward stand-off ensued after a handful returned to work. By late afternoon the hospital dropped its call for help and said things were under control.
It was an ominous illustration of what might go wrong in the current fraught atmosphere around the dispute.
---
Mr Hunt said the number that had gone into work showed "the values of the vast majority of junior doctors".
"We have some disagreements with the BMA over pay. But we all want to promise every patient who uses the NHS the promise of the same high-quality care every day of the week," he said.
"And at the moment we have an NHS where if you have a stroke at the weekends, you're 20% more likely to die. That can't be acceptable."
Shadow health secretary Heidi Alexander said the government's handling of the strike had been "utterly shambolic".
"Nobody wanted to see industrial action least of all the junior doctors, but we understand why they feel they have no other option," she said.
---
What is the dispute about?
The row between junior doctors and the government is over a new contract
Talks broke down in 2014, but the dispute has escalated since the summer after ministers said they would impose the deal
Ministers offered doctors an 11% rise in basic pay last year, but that was offset by curbs to other elements of the pay package, including payments for unsociable hours - they have maintained there is not extra money for junior doctor pay
The government says the changes are needed to create more seven-days services, but the BMA warns safeguards to keep a lid on excessive hours are being weakened
The union balloted its members in the autumn, and 98% of those who voted backed strike action
Talks restarted in December, leading to three days of strikes being called off, but these have so far failed to reach a breakthrough, which is why strikes are taking place
A 48-hour strike is scheduled for Tuesday 26 January - emergency cover will again be provided
An all-out junior doctors' strike is planned for Wednesday 10 February - emergency cover will not be provided
Talks are ongoing and the two sides are set to get around the table again later this week
The junior doctors row explained
What exactly do junior doctors do?
A day in the life of a junior doctor
Your strike questions answered
The lessons of the 1975 doctors' strike
Many support striking doctors - poll
---
On Tuesday morning, bosses at Sandwell Hospital in West Bromwich ordered junior doctors back to work after declaring a major incident due to a "very high" number of admissions, but that request was later retracted.
The BMA had refused to agree to the request, arguing it was not clear whether the situation qualified as a major incident.
"The number we have been able to safely discharge has increased so that services are safe for tonight and tomorrow," a hospital spokeswoman later said.
Anne Rainsberry, from NHS England, apologised to all patients in England who had been affected.
"It's a tough day but the NHS is pulling out all the stops, with senior doctors and nurses often stepping in to provide cover.
"NHS trusts are now working hard to reschedule cancelled tests, appointments and operations as soon as is possible."
The Patients Association, an independent health charity, urged "both sides to continue discussions".
"Any new contract must offer terms that are fair for doctors and protect them. Junior doctors are the backbone of the NHS, and it is vital that they are able to provide the safe and effective care that patients need," it added.
---
Are you going on strike to support the junior doctors? Has your operation or treatment been cancelled? Let us know about your experiences. Email haveyoursay@bbc.co.uk with your stories.
Please include a contact number if you are willing to speak to a BBC journalist. You can also contact us in the following ways:
---