NHS nursing levels: Nine in 10 hospitals missing targets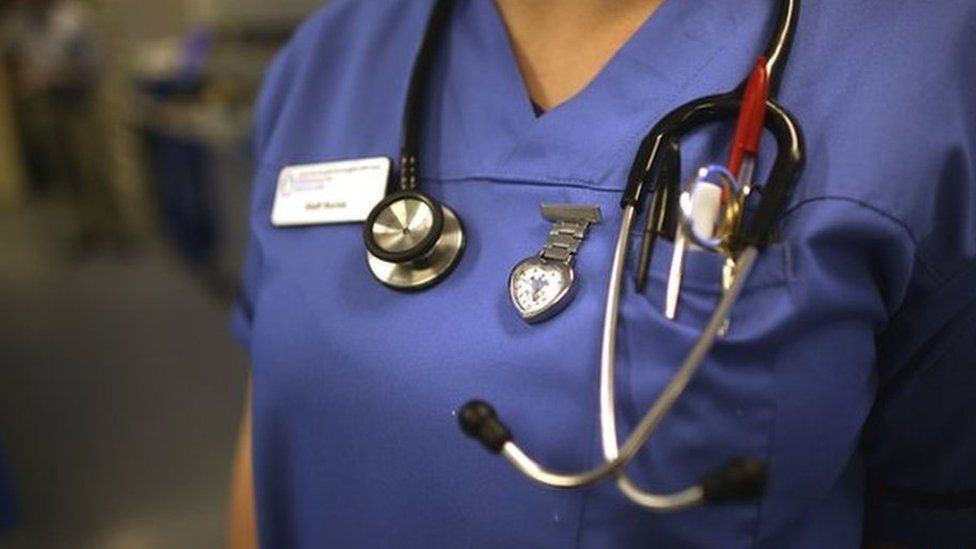 The vast majority of hospitals in England are struggling to recruit enough nurses, figures show.
Some 92% of the 225 acute hospital trusts in England did not manage to run wards with their planned number of nurses during the day in August.
The figures, published by the NHS, show that hospitals in England are falling short of their own targets for levels of safe staffing.
The Department of Health said staffing was a priority.
A spokesman added that 50,000 nurses were currently in training.
Analysis by the Health Service Journal shows average staffing levels across the 225 acute hospital sites in August was worse compared with data for January, when 85% of hospitals missed their staffing targets for nurses working during the day.
The figures also showed 81% of hospitals failed to have enough registered nurses working at night.
Some 79% of hospitals missed their target for registered nurse staffing across both day and night.
It's no secret that NHS trusts have been facing a shortage of nurses.
Many hospitals have had to rely heavily on overseas recruitment as well as agency staff to provide safe staffing levels.
A long-term solution is to train more nurses.
The government is scrapping the cap on how many can go into training, which it says should help boost numbers.
But at the same time, student nurse bursaries are being replaced by loans which unions warn could deter people from picking nursing as a career.
And the staffing problem is not just about numbers. It's about having the right mix of skills.
Trusts need to recruit and retain highly trained senior staff too.
Royal College of Nursing chief executive Janet Davies said hospitals were trying to catch up on their staffing levels.
She told BBC Radio 4's Today programme: "We went through a period of time where we were trying to save money. We cut posts, we didn't train enough nurses and we're still feeling the effect of that.
"We've a long way to go. We've got to catch up on this for some time. But equally, we have to keep the nurses we've already got. It's great to train people, it's great to bring people in, but our experienced nurses are leaving.
"They're leaving because they're overtired - it's a bit of a vicious circle."
She said nurses were "exhausted" at the end of their shifts and often having to stay late to provide extra care.
"They do get very concerned because they know what they should be doing for patients and if they can't, it's really upsetting," she added.
The NHS in winter: Want to know more?
Video: Why hospitals are under so much pressure
Video: How a hospital can grind to a halt
Hospitals have been required to publish monthly data on whether they have enough nurses on wards since April 2014.
Many hospitals have had to boost their nurse numbers by recruiting overseas, and spending on agency staff has contributed to NHS deficits.
Labour shadow health minister Justin Madders said the government's cuts to nurse training places had left hospital wards dangerously understaffed, forcing NHS bosses to waste huge amounts of money on expensive agency staff.
A Department of Health spokesman said: "Staffing is a priority - we've put more than 7,600 additional nurses on our wards since May 2010 and there are 50,000 nurses currently in training.
"We know that there are big challenges for hospitals, so we are helping the NHS to employ the staff it needs at a fair price by clamping down on rip-off staffing agencies and identifying billions of pounds of back-office savings so that as much money as possible goes to the front line."
It comes after a study published in the British Journal of Anaesthesia suggested that fewer patients die after emergency surgery in hospitals that have more doctors and nurses.
The research, looking at data involving nearly 295,000 patients, also found death was more likely following a weekend admission, saying this showed staffing was a factor in the so-called weekend effect.
And a separate Nursing Times survey last week suggested nurses are under so much pressure that they cannot guarantee safe care for their patients.
The survey of nearly 1,000 nurses found eight out of 10 are under more stress at work than they were a year ago, with more than half saying they "rarely" or "never" had either sufficient time or staff to ensure safe care for patients. A third said their ward or team was "always" short-staffed.