Doctors' strike: What patients need to know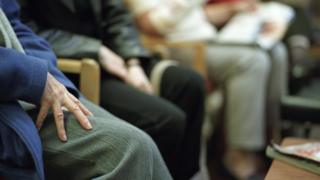 Junior doctors in England plan to take industrial action on three dates in December - Tuesday 1, Tuesday 8 and Wednesday 16. During the strike, what should patients do?
On the first day of action, which will last for 24 hours from 0800, junior doctors will run an "emergency care-only" model. Effectively, this means some of them will still be on rota to work in A&E and cover other emergency services in hospitals. But they will not do any non-urgent work - this will either be cancelled or picked up by colleagues.
On the other two dates, from 0800 to 1700, junior doctors will stage a total walkout, leaving senior colleagues, locums and nurses to fill the gaps.
Doctors say they want to minimise any disruption to patients, but some services will unavailable or reduced. Others will be largely unaffected.
In an emergency:
You should still dial 999 for an ambulance or go straight to A&E. These services will continue to run throughout the strike. Junior doctors who are on rota to work in the emergency department on the first of the strike days will have to come in to work. On the other two days of industrial action, other doctors and nurses will be expected to cover for the juniors who are on strike. It is not clear what impact this will have on queues and waiting times, but doctors insist patient safety will come first.
To access urgent medical help:
You can still call NHS 111, visit your GP or see an out-of-hours doctor at an urgent care centre or walk-in centre. They will be able to offer you advice and direct you to the services and care you need.
Visiting a GP:
The strike involves junior doctors. Some of these will be trainee GPs, but surgeries should still be open to see patients as usual. Although a few routine appointments may be cancelled on strike days. You will have been notified if this applies to you.
Cancelled operations and clinics:
Some hospital clinic appointments, non-emergency surgery or other non-emergency work will be cancelled. You should have been informed if this will affect you. If you have a hospital appointment on one of the strike days and are concerned, you should speak with your hospital.
NHS hospital trusts are ultimately responsible for ensuring patients receive the treatment they need, and it will fall to them to put in place appropriate arrangements to ensure continuity of care and patient safety in the event of any industrial action. There are more than 40,000 consultants and 10,000 staff doctors, not to mention locums, that could be brought in. There are also 17,000 junior doctors who are not BMA members. An overwhelming majority of the 37,700 junior doctors balloted about the industrial action voted in favour of the strike.
Pharmacies and dentists:
The strike does not include any of these healthcare professionals. Services should run as normal.
Services in Scotland, Wales and Northern Ireland:
The dispute over the junior doctor contract is an England-only issue.
Doctors in Scotland, Wales and Northern Ireland will not be taking part in the strike.