Jeremy Hunt makes pay offer in junior doctor row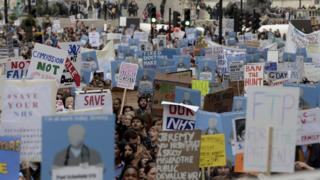 Health Secretary Jeremy Hunt is writing to all 50,000 junior doctors in England in a last ditch attempt to persuade them not to take industrial action.
His letter includes fresh clarification on what the changes involve and a few concessions.
Basic pay is to rise by 11%, but other elements, including what constitutes unsociable hours, are being curbed.
It comes as the British Medical Association prepares to ballot its members on industrial action.
The vote starts on Thursday and lasts two weeks.
Mr Hunt said the changes would help deliver a seven-day NHS and wants the union to return to the negotiating table so a strike can be avoided.
The union said it had yet to go through the details of what has been unveiled, but ministers would need to end the threat to impose the contract before they resumed talks.
'Salaries protected'
The new contract is due to be introduced in August.
In his letter, which is being sent to doctors via their medical schools, Mr Hunt says just 1% of NHS junior doctors would lose out under his plans.
The health secretary's proposed rise to basic pay would see a new doctors' salary rise from £22,636 to £25,500.
Junior doctors row
55,000
junior doctors in England
37,700
balloted over industrial action
£3.1bn spent on junior doctor pay currently

11% rise in basic pay offered

25% cut in weekly hours that attract a premium unsociable hours payment
Science Photo Library
But guaranteed pay rises related to time in the job are being scrapped and instead pay will be directly linked to progress through dedicated training stages.
Other elements of their pay package are also being cut.
Mr Hunt said the changes would mean three-quarters of junior doctors would get pay rises, while most of the rest would see their salaries protected.
The government said the doctors who would lose out were the ones who worked lots of extra hours and therefore were entitled to extra payments.
Thousands of doctors have taken to the streets in recent weeks to protest about the contract offer, which they say could put patient safety at risk because of longer hours and lead to pay cuts of up to 15% for some.
---
Analysis
The timing of this letter - the day before the ballot opens - is no coincidence. Mr Hunt has provided more detail on the contract plus some concessions in an attempt to get junior doctors to step back from the brink.
Union leaders and many others in the medical profession will now spend the next few days poring over the details.
The 11% basic pay rise seems attractive, but that is tempered by curbs to other elements of their pay package.
And while the pledge that only 1% of doctors will lose out may seem positive on paper, those in the profession worry that that figure could be misleading.
As time goes by, and the changes bed in, the fear is many more could loose out.
The ballot closes in two weeks. We won't have to wait long for a verdict on the health secretary's latest salvo in this long-running dispute.
---
The details unveiled by Mr Hunt include a concession on what constitutes unsociable hours.
The original plan included classing Saturday working from 07:00 to 22:00 as normal hours, but that has now been reduced to 07:00 to 19:00.
Currently the whole weekend is classed as anti-social working and therefore attracts extra payments.
The Care Quality Commission is also being asked to monitor how many hours junior doctors are doing as part of its inspection regime to make sure trusts are not overworking medics.
Mr Hunt said the deal would be good for doctors and patients.
"I appeal to the BMA to do the right thing and come back to the table to negotiate for its members," he said.
Meanwhile, Prof Sir Bruce Keogh, medical director for NHS England, said doctors should consider the terms being offered.
Dr Johann Malawana, the BMA's junior doctors leader, told BBC Breakfast: "I haven't actually seen the proposals because it's all been released via the media overnight."
He added: "Throughout the last month or so the government has had varying different percentages that they claim that they are going to increase basic pay by. And every time we have seen the detail of this, it's unravelled."
Scotland and Wales have said they do not want to introduce the changes, while Northern Ireland has yet to make a decision.