Easing winter pressures: Bringing healthcare to homes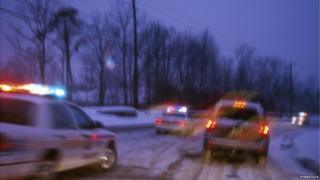 In this week's Scrubbing Up, Matthew Winn, chair of the NHS Confederation Community Health Services Forum, says community health services have a vital role to play in easing winter pressures on hospitals.
It is crunch time for the NHS. Its funding cannot keep pace with growing demand for care. Concern is mounting about a potential crisis this winter.
The kind of care many people need for the longer term is also changing so we must not forget both the role that community health services play in easing pressure on hospitals this winter, and the strain that the whole NHS is under.
How the NHS responds to these challenges is likely to affect us all. Health services in the community and in people's own homes will have a vital role to play, not only in the coming years, but this winter too - as a part of the solution to ease pressure on A&E and the wider NHS.
What are community services?
Community health services provide a wide range of 'cradle-to-grave' services that many people take for granted.
We support every child and young person to stay healthy, through health visiting and school nursing services.
For adults and older people, we provide specialist coordinated care for people living with a long term condition (such as diabetes or breathing problems) in a person's own home.
A large part of the 'hidden' work of community health services is in supporting people to die with dignity in their own home environment, working carefully with families, GPs and charities/voluntary sector organisations who also provide invaluable support.
Much of the healthcare provided involves teams of nurses and therapists - some 250,000 in total - working with professions including GPs and social care.
Across England, community health staff see patients at least 100 million times every year.
The community is often the best place to tackle avoidable illnesses. Left unchecked, conditions such as diabetes and obesity often snowball into complex health problems. When this happens, pressure builds on hospitals and on GPs.
Preventing this build-up is the 'bread and butter' work of our community health services. We have teams of professionals who provide advice and support to patients on how they can stay well, such as preventing further falls over winter; local facilities which can treat minor injuries and illnesses and 'rapid response' services which undertake urgent home visits by nurses.
Once winter pressures recede, the 15 million people in England with long term conditions will still want and need care that is tailored to their individual needs (however complex and varying their issues are), so they can live as independently as possible at home. Many also want much more control over their care and a more active role in how they are treated and supported.
More care must take place where the public needs it most - in the community. A wider range of health care organisations, such as pharmacies, need to expand their roles and we need to make healthcare more joined up and personalised. Community health services hold the key to making this longer-term transformation possible.
Closer working
Firstly, through far closer working with GPs, community health staff could relieve some of the immediate pressures on GPs and hospitals. For example, community nurses could lead and manage the coordination and planning of complex care provided to patients instead of requiring GPs to do it all.
Community services and GPs can also work together to bring some complex care out of hospitals. This could include professionals who historically have usually worked in hospitals, such as gynaecologists, diabetologists and geriatricians, working with local professionals in local health centres and GP surgeries.
Secondly, as community health staff work with patients over a long period of time, they are ideally placed to support people to take more control of their own care and use new technologies. People need to be confident to manage and improve their own health and to know when they really need to see a professional as well as when they do not.
Thirdly, giving community health professionals and local GPs control of the total health and care budgets for their local registered patient population in the future could ensure scarce NHS money is used more wisely and effectively.
Sharing knowledge
GPs and community services could combine their thorough knowledge of the local community and its needs, to ensure money is directed at the services and initiatives that will do most to keep each local community well.
These changes should improve care, meaning people with long term conditions need fewer trips to A&E, particularly during winter, and that older people are no longer stuck in hospital beds waiting for the support to allow them to go home. People would only be in hospital when it is the right place for them because of their medical needs.
The traditional way the NHS works simply does not meet the needs of our growing and ageing population, and is unaffordable. Revolutionising the way care at home is provided and resourced is crucial, so more NHS staff work in the community and feel confident working across some of the traditional and historic boundaries of the NHS.
If we succeed, millions of people will experience better care, millions more will stay well for longer, and we will take pride in a NHS fit for the 21st century.