Meningitis B vaccine needed urgently, campaigners say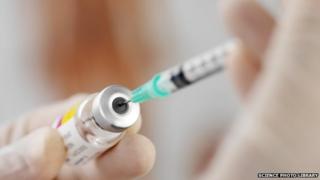 Delays in introducing a vaccine that protects against a deadly form of meningitis are putting the lives of children at risk, campaigners say.
A year ago, expert advisers for the government recommended the meningitis B vaccine be given to babies from two months old across the UK on the NHS.
But a cost-effective price has not yet been agreed with the manufacturers.
Health Secretary Jeremy Hunt told the BBC he was hopeful that a deal could be reached "very soon".
Meningitis charities are calling for urgent action from the prime minister and Mr Hunt to conclude negotiations with manufacturers GSK.
Mr Hunt said since the company that initially developed the vaccine had been taken over by GSK, there had been a "substantial" change in price and that he feels "very encouraged".
Mr Hunt, who spoke to GSK chief executive Sir Andrew Witty this week, said: "We do need them to be reasonable, but we certainly want to do everything we can to make sure that we get this vaccine out there."
Meningitis is a bacterial infection that usually affects children under the age of one. There are about 1,870 cases of meningitis B each year in the UK.
Symptoms include a high fever with cold hands and feet, confusion, vomiting and headaches. Most children will make a full recovery with early diagnosis and antibiotic treatment.
It is fatal in one in 10 cases. About one in four of those who survive is left with long-term problems, such as amputation, deafness, epilepsy and learning difficulties.
GSK's list price for a single dose of Bexsero - the vaccine in question - was £75, but that figure would not necessarily apply if it was used in a mass vaccination programme, the company said.
The company recently acquired Bexsero as part of a recent transaction with Novartis.
A GSK spokeswoman said the company wanted to reach "a rapid conclusion to negotiations".
She said: "We have moved quickly following the recent acquisition of the vaccines business from Novartis, aiming to minimise further delays to infants getting access to the vaccine.
"We are confident our proposal, which is significantly below the list price, offers fair value for the NHS."
---
What is meningitis?
Meningitis is an infection of the meninges - the membrane that surrounds the brain and spinal cord
Meningococcal bacteria are common and carried harmlessly in the nose or throat by about one in 10 people
They are passed on through close contact
Anyone can get meningitis but babies and young children are most vulnerable
Symptoms include a high fever with cold hands and feet, agitation, confusion, vomiting and headaches
---
Sue Davie, from charity Meningitis Now, said: "Too many of our children are needlessly dying or being left disabled due to this lethargic bureaucracy and this government's inability to conclude a deal."
The parents of 16-month-old Harmonie-Rose Allen, who lost all her limbs after contracting meningitis B, said they did not want other families to suffer as they had.
Her mother Freya Hall said of the vaccine: "I am so upset that it's not brought in."
Consultant paediatrician Matthew Snape works with the Oxford Vaccine Group that conducted clinical trials on the vaccine.
He told BBC Breakfast: "It's very frustrating for everyone involved. Seeing children come in with men B disease - that's clearly very frustrating."
Dr Ian Maconichie, from the Royal College of Paediatrics and Child Health, said: "One year on, we appeal that a decision is made imminently, so should the vaccine be introduced, it can begin to save children's lives and spare some from severe preventable disability as soon as possible."
There are several different strains of meningitis infection. Vaccines are already given to babies in the UK to protect against meningitis C.
Last week, Public Health England announced that teenagers would soon be vaccinated against meningitis W after a steep rise in the number of cases.
Dr Snape said the meningitis B vaccine would also protect against meningitis W.