Selfie danger during solar eclipse, eye experts warn
By Smitha Mundasad
Health reporter, BBC News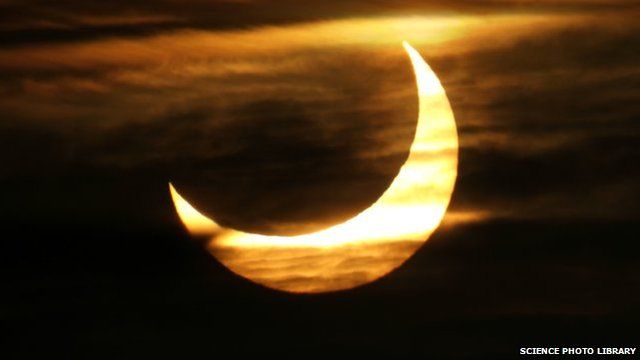 Taking pictures of Friday's solar eclipse on a smartphone could put people at risk of blindness, eye experts warn.
The College of Optometrists says the danger comes should people look directly at the Sun as they position themselves for selfies or other shots.
Inadvertently glancing at the Sun - even briefly while setting up a shot - can lead to burns at the back of eye.
Experts advise indirect viewing, using pinholes and facing away from the Sun.
On Friday, the UK will experience a partial solar eclipse - the Moon will pass in front of the Sun, blotting out up to 98% of its disc and putting much of the UK into a morning twilight.
People in Scotland and Northern Ireland are expected to experience the darkest conditions.
For many, this will be the first time they have witnessed the phenomenon in 15 years, but eye specialists say people should not use their camera phones to capture the event.
Daniel Hardiman-McCartney, a clinical adviser at the College of Optometrists, said: "In 1999, when there was the last major eclipse, no-one really had smartphones or took selfies.
"This could potentially be very dangerous because people might be tempted to look at the Sun as they try to get the perfect shot or clip.
"And as the eclipse is a relatively slow process, people might end up accidentally looking at the Sun for minutes."
He said though an image of an eclipse on a screen was not dangerous in itself, people might look around the edges of a phone when framing the photo.
"And when taking selfies, it would be easy to keep glancing back over your shoulder to make sure everything is aligned."
He plans to view the event indirectly on a television screen.
The Royal College of Ophthalmologists says there is no safe method for most of the public to look at an eclipse directly - even using dark filters such as sunglasses or through equipment such as cameras, binoculars or telescopes.
Astronomers use special solar telescopes or filters to protect them.
But eye doctors have seen patients with permanent and incurable solar burns to their eyes, the college's guidance warns.
The Royal Astronomical Society has issued information on the safest ways to view the eclipse.
They include using a pinhole camera to project an image of the eclipse on to a piece of card.
Other options involve using colanders to make multiple pinholes or using specifically designed eclipse viewing glasses.
Experts warn the glasses must be checked for damage first and should be put on before looking up at the sky.
Related Internet Links
The BBC is not responsible for the content of external sites.