Pioneering surgery 'saves bowels' when removing polyps
By James Gallagher
Health editor, BBC News website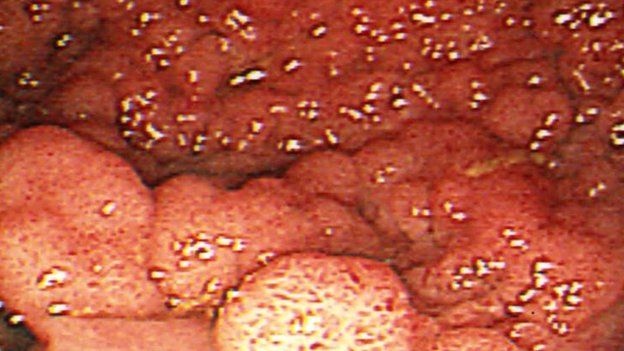 Pioneering surgeons have developed a technique to preserve the bowels when removing pre-cancerous growths.
The rectum is prone to the growth of very large polyps. Removing them can cause so much damage it leaves the patient needing a stoma bag.
The new method has been performed on 20 people and the largest polyp removed was 18cm.
The team at London North West Healthcare NHS Trust said their method was "life changing" for patients.
A polyp is not necessarily a tumour. But the bigger they grow, the more likely they are to become cancerous.
They are often removed to prevent them reaching a deadly stage , but larger polyps can be difficult to get rid of.
Some are so large they take over the entire circumference of the rectum.
Prof Brian Saunders, a gastroenterologist, and surgeon Janindra Warusavitarne developed a new technique at St Mark's hospital in London.
A tube is passed through the anus into the rectum - the final resting point of faeces before they are passed out of the body.
The tool, which allows combined laparoscopy and endoscopy surgical techniques, allows one doctor to pull the polyp away from the rectal wall while another doctor cuts it free.
Prof Saunders told the BBC: "What that does is minimise the amount of trauma to the rectal area.
"The patient with the 18cm polyp couldn't get out of bed, he was pouring mucus out of the anus, losing sodium and potassium, which affected his blood pressure and he could not stand up.
"Now he's absolutely fine, back doing his job and leading a full life.
"For the patients who benefit, it is pretty life changing."
George McAusland, 53, from south-east London, thought he had Irritable Bowel Syndrome (IBS) for more than a decade.
"Eventually I had permanent diarrhoea and I would go up to six times per day and in the night as well," he said.
Mr McAusland eventually went to the doctor and a 7cm rectal polyp was discovered.
It took a five-hour operation to remove the giant polyp, but his rectal function was preserved.
Mr McAusland says he had a lucky escape from a colostomy bag: "I cannot imagine how that must be, people put up with a lot of things but that would have been a game-changer.
"If you do have a bag you're on drugs and medication - I'm so glad I don't have to - it's all good.
"I'm delighted people are out there, it's not the glamorous end, and they're so dedicated and trying to make it better and better and this seems to be doing the trick."
It is not clear how many people would benefit.
The technique would only be suitable for patients with very large polyps or the very early stages of cancer - not advanced cancer.
The team at St Mark's estimate that between 300 and 400 people might be suitable each year.
"And with bowel cancer screening coming, it is likely to be increasing," added Prof Saunders.
It remains unclear why the rectum suffers from larger polyps than the rest of the colon. One idea is that the faeces rest there for longer, so there is more contact with potential carcinogens.
Shafi Ahmed, from the Royal College of Surgeons and a consultant general and colorectal surgeon, said: "The removal of rectal polyps has traditionally been performed through endoscopy, however the risk of complications with this technique is higher particularly for large polyps.
"It is great to see St Mark's medical and surgical teams working together to discover and develop a new technique that brings benefit to patients.
"We look forward to seeing further results in the future as this technique is still in its early phase but it's a promising sign of what's to come."
Related Internet Links
The BBC is not responsible for the content of external sites.