Morbidly obese in England could get free flu jab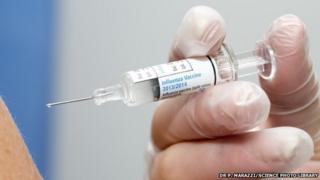 Morbidly obese people in England should be given a free flu jab on the NHS each year, say government advisers.
Public Health England and the government's vaccine advisory committee are in agreement that obesity poses enough of a health threat to consider including it as one of the "at risk" groups routinely offered the vaccine.
It would put obesity in the same league as asthma, diabetes and heart disease.
The government is yet to announce whether it will act on the advice.
A spokeswoman from the Department of Health said this coming year's flu plan was still being developed.
Nearly a million people in the UK are morbidly obese.
Morbid obesity is defined as a Body Mass Index (a measure of weight in relation to height) of 40 or more.
In the UK, about three women in every 100 and one man in every 100 fit in this category.
And experts say lessons from the 2009 outbreak of pandemic swine flu, which spread from country to country and infected a fifth of the world's population, suggest that people who are morbidly obese are particularly vulnerable to severe flu.
---
Free flu jabs
The seasonal flu vaccine is currently available for free on the NHS for "at risk" groups which include:
young children
anyone over the age of 65
pregnant women
people with asthma, diabetes, heart disease or a weakened immune system
---
'Respond well'
A number of studies have suggested that many of the patients around the globe who died or ended up in hospital with H1N1 swine flu were morbidly obese.
While some very obese people might already be eligible for the flu jab because of co-existing health problems, the majority will not be, experts estimate.
By their calculations, about 800,000 extra people in the UK could then qualify for the vaccine if morbid obesity is added to the "at risk" list.
The Joint Committee on Vaccination and Immunisation said, based on the evidence available to them, it was "clear" that morbid obesity should be considered a risk factor for having the seasonal flu jab.
A spokesman said: "JCVI considered a summary of evidence, provided by Public Health England, which indicated that morbidly obese people are at an increased risk of complications and mortality from influenza, relative to healthy individuals, and additional evidence suggesting that such individuals respond well to vaccine.
"The committee confirmed its advice that morbid obesity should be considered a risk factor for seasonal influenza vaccination."
Jonathan Ball, professor of virology at the University of Nottingham, agreed that morbidly obese people should be given a free flu jab because they were an at risk group.
"People who were obese were turning up [to hospital] with serious complications [of influenza infection] and therefore it makes perfect sense to give them the vaccine because there is no reason why they wouldn't respond well to it," he told the BBC.
Mr Ball said there would be both a health benefit and cost benefit for the NHS in the long run if the group were given the vaccine.