NHS revamp - rhetoric into reality?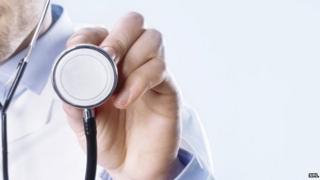 It was launched in a wave of publicity and to a fair amount of praise from both the health world and Westminster.
The Five Year Forward View, published last October, was the first major policy statement from the head of NHS England Simon Stevens.
His mantra was that the NHS must adapt and that planning for the future must start locally rather than in Whitehall. Underlying this was the need to save money at a time of mounting pressure on the NHS budget. What was not clear was how that would work in practice.
Today sees an attempt by Mr Stevens to turn the rhetoric into reality.
The Five Year Forward view set out models for localised healthcare, some of which sounded highly theoretical and laced with management-speak. He invited local groups to select a model which might work in there area and make bids for approval.
269 came into his in-tray and he and fellow NHS chiefs have whittled them down to 29 so-called " Vanguards" which will blaze the trail. So what will the "Vanguards" look like?
Vanguards
Mr Stevens' talked last October of a new care model called a Primary and Acute Care system (PAC) - in essence this involves single organisations providing both GP and hospital services. Now we have examples of areas where that will be tried out. One of them involves a Northumberland Integration Board, comprising local hospitals, a clinical commissioning group, GPs and the county council. Seven-day-a-week primary care is one of the aims of this group on Tyneside.
Mr Stevens also mentioned Multispecialty Community Providers (MCPs). This concept, which hardly rolls off the tongue, sees large GP practices potentially employing consultants such as paediatricians and psychiatrists to work alongside community nurses and therapists. An example will be in the Fylde area of Lancashire where, we are told, there will be "a newly designed extensive care model for the frail and elderly population".
A more radical form of PAC would take on the responsibility for all the health needs of a defined population of patients with a delegated per capita budget. These, the Forward View said, would be similar to the Accountable Care Organisations seen in Spain and parts of the US. The latest announcement suggests that such an organisation will emerge in the Rushcliffe area of Nottinghamshire, covering all the health requirements of a population of 126,000. A fixed budget per resident will be handed to the local group to cover health and social care.
This sounds potentially like a big deal for each of the areas. Simon Stevens says it will be the most significant integration of local services since the foundation of the NHS in 1948. Giving patients more power, encouraging disease prevention and reducing demand for healthcare are the hoped for outcomes of what is being billed as a radical shake-up.
But there are of course many question marks:
Does this amount to another health reorganisation when the service in England is still getting to grips with the reforms introduced in April 2013?
Will the fabric of the NHS start to look frayed if different parts of England are departing from the original model?
Are some of the Vanguard groups the same as those which bid for money under the Better Care Fund due to take effect in April?
If so, is the policy a 'respray' of an existing one?
To use the old cliché, only time will tell. And Simon Stevens does not have time on his side as the continuing pressures of rising demand and a stretched budget bear down on the NHS.