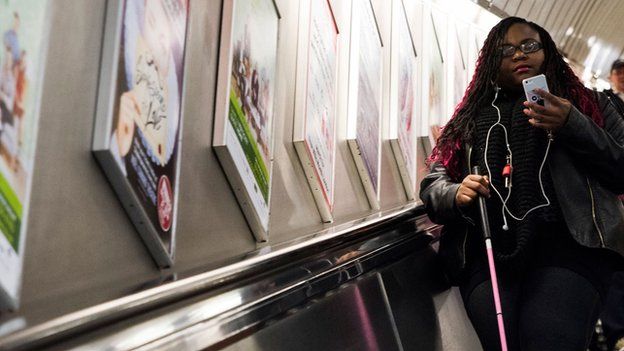 The desire of a group of visually impaired young people to travel independently on the London Underground, rather than rely on friends, has contributed to the development of a ground-breaking app which they can use to guide them.
The technology using Bluetooth beacons is being tested by Transport for London (TfL).
It designer says it could eventually be used in busy rail stations and airports around the country.
Members of the Youth Forum of the Royal London Society for Blind People (RLSB) said they wanted to navigate the tube system independently.
Currently most have to rely on friends to help them get used to familiar routes or phone ahead to request assistance from London Underground staff. Many do not feel confident about using the whole network.
They group teamed up with a digital products designer, ustwo, which then devised a system which was effective below ground.
The Bluetooth beacons transmit signals which can be picked up by smartphones and other mobile devices.
Audible directions are provided to users via "bone conduction" earphones which allow them to hear sounds around them as well.
The directions warn users when they are approaching escalators and ticket barriers and which platforms they may be approaching.
It's the first such trial of a technology which can guide blind and partially sighted people underground or in areas with limited mobile phone reception.
Developers say it could be used in other subway networks like those in Newcastle and Glasgow or in other busy public transport hubs.
There are services and apps for use above ground, using GPS signals, although reception can be variable.
Lauren Richardson, who uses public transport to get from Berkshire to work in London every day, is visually impaired.
She is one of the RLSB volunteers who had the idea of using smartphones as guides.
Lauren can only stick to tried and tested routes which reduces her freedom to travel around the capital for her employer.
Reading the platform indicators, maps and station signs is impossible and she says the experience of travelling is often "scary".
Lauren, who has taken part in trials of the new system on London Underground, said: "This technology has given me loads of confidence - its given me the chance to be independent and be really free.
"I feel like I can leave my door without having to wait for someone for assistance".
London Underground says it will continue with trials with a view to introducing the system at a wider range of stations.
Mark Evers, its director of customer strategy, said: "While we have staff at all Tube stations to assist people whenever they need that, we're always keen to see how technology and innovation can help open up and make our networks more accessible".
Dr Tom Pey, chief executive of RLSB, says employment opportunities for blind people in the capital can be severely limited because of fears about using public transport. He said young people had contributed to a significant breakthrough and had "demonstrated the creativity and tenacity to change the transport system of London".
Related Internet Links
The BBC is not responsible for the content of external sites.