Is another NHS scandal brewing?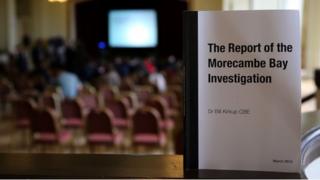 Lethal. Shocking. Unacceptable. Dysfunctional. Failures at every level. So said the report into maternity care at Cumbria's Furness General Hospital.
But as was pointed out repeatedly as the inquiry published its findings on Tuesday, the parallels with Stafford Hospital are chillingly similar. In fact, Health Secretary Jeremy Hunt went as far as calling it a "second" Stafford Hospital - albeit it on a smaller scale.
In both cases poor care was covered up by a culture of secrecy and intimidation, priorities seemed to have been distorted by the pursuit of foundation trust status and the wider NHS missed opportunities to deal with the problems at an earlier stage.
In both cases it led to unnecessary suffering - and it was left to patients to expose the truth. So can we be sure this is not happening elsewhere? It's a question that always gets asked when these reports are published - and the sad truth is that there can be no guarantees.
Dr Bill Kirkup, the chair of the Morecambe Bay Inquiry, named after the trust which ran the hospital, admitted as such. He said "there could be elements" of what he found happening elsewhere when pressed by journalists.
---
What was said about Stafford Hospital?
There has been several major investigations into Stafford Hospital, two of which have been chaired by barrister Sir Robert Francis.
The inquiries focused on care provided in A&E and several wards linked to the unit from 2005 to 2009. They the described the "unnecessary suffering" of patients who were left to crying out in pain and dehydrated from a lack of water. Data showed the number of deaths were between 400 and 1,200 above what would have been expected during the period.
The reports said there was a culture of "bullying" and "denial" where "appalling standards" were let go as managers pursued targets. But the finger of blame was pointed at the whole system, including regulators and the regional health authority.
---
Two things make this possible. The NHS is such a vast institution - it sees a million patients every 36 hours - that despite all the regulation and monitoring it is difficult to know what is going on everywhere.
Standards of care vary greatly across the country. But even within hospitals good and bad can exist side by side. This is a point Royal College of Nursing general secretary Peter Carter has made.
He visited Stafford Hospital before the problems came to light and praised the care being provided. But he hadn't seen the wards that would later become notorious for their substandard care. Afterwards, his explanation was that hospitals are a series of "micro-climates".
That certainly seems to be the case at Furness General Hospital where the midwives, who called themselves "the musketeers", created a situation where the maternity unit effectively became their fiefdom, while managers seemed so motivated by a desire to achieve foundation trust status that they "suppressed" the information they did have.
But, of course, it's impossible to keep everything quiet. What is perhaps equally shocking to the poor standards is the fact that people outside the hospital did know something was wrong, but it was never acted up on.
Why? The report lists in detail a series of missed opportunities by the North West Health Authority, Care Quality Commission and Parliamentary and Health Service Ombudsman to tackle the problems at an earlier stage.
This spanned a period when the structure of regulation and monitoring was changing. Some of this was part of the constant state of revolution the NHS finds itself in, but other changes were being made in light of the Stafford Hospital scandal.
---
What was said about Furness General Hospital?
Tuesday's independent inquiry, chaired by former senior Department of Health official Dr Bill Kirkup, looked at maternity care from 2004 to 2013.
It said the unit was "dysfunctional" with "extremely poor" working relationships between staff. Midwives pursued normal childbirth "at any cost". This lethal mix led to the "unnecessary deaths" with 11 babies and one mother dying when different care would have saved their lives.
But the failures stretched all the way to the "headquarters of national bodies" with the Care Quality Commission, Parliamentary and Health Service Ombudsman and regional health authority missing opportunities.
---
With new people coming into post and new processes being introduced, intelligence on the problems brewing was not passed on nor acted on, particularly in 2009 the year after a cluster of five serious incidents.
After this there were another 10 deaths - six of which would have expected to be prevented. Errors such as these - the report lists seven - prompted Dr Kirkup to recommend that before future reorganisations are pursued the "cumulative impact" of them is properly assessed.
The only problem with that is the NHS has just under gone one of its biggest ever reorganisations with the dismantling of regional health authorities and primary care trusts. It begs the question: in a couple of years could we be in the same position we are now?