Child health should be election issue, say doctors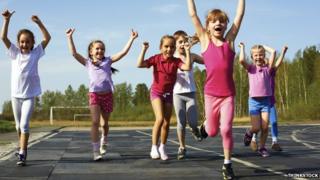 Measures to protect children's health should be put at the forefront of the general election, say doctors.
The Royal College of Paediatrics and Child Health said child health was falling "to the wayside", with too much attention on the elderly.
It said there was large public support for junk food advertising bans, cooking lessons in school and lowering speed limits.
It added that such measures would make moral, economic and political sense.
Dr Hilary Cass, the president of the college, said: "We often see policies hitting the headlines that are targeted at the ageing population - increased funding for dementia research and additional dementia training for NHS workers are among the pledges that have been made in recent weeks.
"But whilst caring for our ageing population is important, it shouldn't mean that children's health falls to the wayside."
The organisation's poll of 2,118 adults in the UK suggested:
Two-thirds wanted junk food TV adverts banned before 21:00
90% wanted cooking and nutrition lessons in schools
82% were in favour of compulsory personal, social and health education (PSHE) schools
58% supported the national speed limit being lowered to 20mph in built-up areas.
Dr Cass added: "The UK has the worst child mortality rate in Western Europe, has the highest rate of childhood obesity and has an estimated 850,000 children and young people living with serious mental health conditions - 76% of five-15 year-olds with anxiety or diagnosable depression are not in contact with mental health services.
"These are figures that are going to see little improvement if bold policies are not put in place to directly address them.
"What's needed is urgent and increased investment in children's mental health services and policies like taxation of foods high in salt, sugar and fat, compulsory PSHE lessons in all schools and heightened road safety measures such as 20mph zones - policies that are backed by the public.
"I call on the next government to listen to the facts and listen to the public - make child health a priority. Not only does it make strong moral sense, it makes economic and political sense too."