Nurses 'delay hospital discharges' over support fears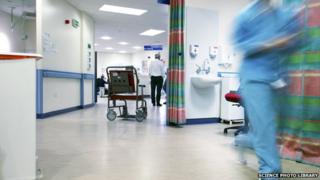 Nearly 70% of NHS nurses in England often delay discharging older patients because there is no support for them after hospital, a survey suggests.
The poll of 189 nurses for the Royal Voluntary Service charity indicated that medically fit elderly patients were being kept in much-needed beds.
The RVS says pressures on hospitals and local authorities could be relieved by more volunteers in people's homes.
Ministers say extra council funding has helped move people out of hospital.
The RVS survey also found that 95% of nurses said delayed discharge was a serious problem in their hospitals, with 82% reporting that it had worsened in the last 12 months.
Just over half of the nurses surveyed online in January and February said they were frequently pressured by relatives to keep patients in hospital.
Overall, 74% said they believe partnering with charities and volunteers would help ease pressure on the NHS.
'Personal touch'
The RVS says the government has recognised the value of volunteers by providing £1.2m in additional grant funding.
But it says that while the money for the Royal Voluntary Service, Age UK and the British Red Cross has seen more volunteers in 29 A&E departments, only a "fraction" of NHS trusts have benefitted.
David McCullough, chief executive of the Royal Voluntary Service said: "This winter we have seen delays in hospital discharge reach unprecedented levels, with lack of support for older people after hospital a root cause.
He added: "Greater volunteer support is a cost effective solution which helps drive important efficiencies in hospitals and enables swift, well-managed discharge from wards.
"With family displacement more common, volunteers can help bridge the gap with the personal touch that relatives once filled."
The study was assisted by The King's Fund think tank and forms part of its Let's End Going Home Alone campaign, which aims to create more volunteers.
David Buck from The King's Fund said: "Across the UK delayed discharges are a key indicator of the performance of not only hospitals, but how our overall health and care systems are working. Volunteers can help ease some of this pressure."
A spokesperson for the Department of Health said: "We have given councils an extra £37m to provide additional social care packages to help people move out of hospital".
More than 9,500 people are said to have benefitted from the funding and been helped back to their homes or into residential care.