Don't cut other areas to fund NHS - poll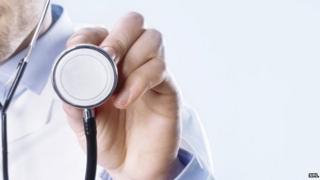 Most people do not want to see cuts to other public services in order to protect the NHS, according to data from the British Social Attitudes survey.
The NHS budget was one of the few areas to be protected this Parliament.
But 58% of the 2,878 people polled by NatCen Social Research said they would not support a further round of cuts to preserve health spending.
The Health Foundation said it was time to consider other ways of raising money, such as tax rises.
This is the second tranche of data from the British Social Attitudes Survey released on the NHS.
Last month, it was reported the poll had found that satisfaction with the NHS had risen significantly and was now at its second highest level.
This part of the survey - funded by the Health Foundation - focused on issues such as the budget and use of the private sector.
Nine in 10 respondents said they supported a national health system that is tax-funded and free at the point of use.
But there was a lack of appetite to keep funding the NHS at the expense of other services.
Some 38% of those who took part said other services should be cut, but 58% said they should not.
Just over half of respondents said they felt the NHS often wasted money and there was a clear correlation between people who thought that and people who thought other services should not be cut.
'Limited options'
Anita Charlesworth, chief economist of the Health Foundation, said: "There is a consensus that the NHS needs extra money.
"This presents a big political challenge and challenge for the NHS. People are not convinced the NHS has cut waste and I think that is why most people are not supportive of extra cuts to other services."
She said the issue of waste needed tackling, but that the findings also suggested there needed to be a debate about how to safeguard health funding, including looking at whether tax rises were appropriate.
"There is a limited set of options," she added.
But Ms Charlesworth also drew attention to the findings on who provides services.
Some 43% of those polled did not have a preference for whether hospital care was provided by the NHS or another provider, such as a private company.
Meanwhile, 39% said they would prefer an NHS body and 16% a private provider.
A Department of Health spokesman said: "What matters most is getting the best care, whoever provides it, which is why we've empowered local doctors to decide what services are best for patients."
On funding, he added it was important the NHS changed - and that was why the government had promised an extra £2bn next year to transform care.