NHS complaints investigations inadequate, says review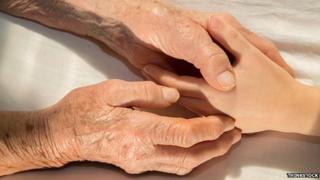 More than 40% of NHS investigations into patient complaints are not good enough, according to a review by the office of the health service ombudsman.
In a review of 150 cases into allegations of avoidable harm or death, it found failings in the handling of 61 complaints by NHS trusts in England.
The review looked at the quality of the investigations and the evidence relied on, as well as statements and records.
The government said it was working to create a "more open NHS culture".
Ombudsman Dame Julie Mellor will appear next week before the public administration select committee - which is looking into the issue of NHS complaints and clinical failure.
Her office has been accused of failing patients.
In one case, a hospital admitted there were mistakes made in a baby's delivery only after her parents had paid £250 for an independent clinical review.
In another case, the family of a 36-year-old man who died after accident and emergency doctors failed to diagnose a life-threatening condition were initially told they would have to take legal action to find answers.
The review by Dame Julie's office found that 28 of the 150 cases should have been investigated as a serious incident.
In one example, an investigation into the case of a 77-year-old man who was admitted to hospital when very ill and died two days later from sepsis found that the hospital failed to recognise the seriousness of his condition and failed to treat him quickly enough.
This should have triggered a "serious untoward incident" investigation, but the findings were not identified in the hospital's investigation.
The Parliamentary and Health Ombudsman Service investigates complaints from the public about the way they have been treated by the NHS, including allegations of avoidable death and harm.
It can also look at complaints about government departments and agencies.
Dame Julie said: "When people make a complaint that they have been seriously harmed, they should expect it to be taken seriously and thoroughly investigated.
"The NHS must tackle the variation in the quality of its investigations but also needs to recognise when to initiate an investigation.
"When the NHS makes a mistake their duty is to investigate - these investigations shouldn't be about attributing blame but should find out what happened and why in order to prevent the same mistakes from happening again. Our evidence too often shows this is not the case."
Roy Lilley, a former NHS trust chairman, said he had long held the view that the NHS complaints procedures were unsatisfactory.
"The trust is absolutely the wrong person to investigate this because the trust is investigating the trust, it should be done independently and outside the purview of that organisation," he said.
"I don't think the numbers are sufficiently robust, but I do think that they confirm the concerns that a lot of people have about how the NHS deals with complaints."
'More open culture'
The Department of Health said it would be announcing measures to reduce avoidable death and harm soon.
But it said it had already introduced a new Care Quality Commission inspection regime and put more than 21,000 extra clinical staff into hospitals since 2010.
"We've set out the ambition to make the NHS the safest healthcare system in the world and we know that listening to patients and staff is absolutely vital to improving care.
"That's why we've made hospitals legally obliged to apologise to patients when mistakes do happen and asked Robert Francis [who chaired the public inquiry into the Stafford hospital deaths] to produce an independent report on how to create a more open NHS culture."