NI could feature in 'coupons to help pregnant smokers quit' trial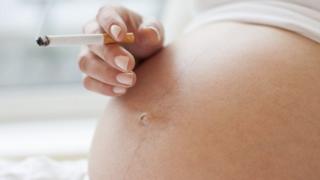 Northern Ireland could feature in trials in which pregnant smokers are offered shopping vouchers to quit.
Researchers in an initial trial in Glasgow found women who received vouchers worth a total of £400 were more likely to stop smoking.
Six hundred women were involved and more than 20% of those offered vouchers stopped smoking, compared with 9% given normal NHS support alone.
Now, there are proposals to extend the medical trials, depending on funding.
Prof David Tappin from Glasgow University who was part of the research team, said: "We need to make sure that this intervention works in other places, so we've planned a trial in other places including Northern Ireland, Lanarkshire, Nottingham and south London... to see if the intervention works in all those places.
"If we get funding, we would aim to start that in August 2015."
Prof Tappin said he expected Northern Ireland women would be on a par with the women in Glasgow, given that the levels of deprivation in Belfast were "probably quite similar to Glasgow".
The team has applied to the National Institute for Health Research for £2m and a decision is expected to be made in the next few weeks.
The results of the Glasgow trial have been published in the British Medical Journal.
The Royal College of Midwives said incentivising healthy behaviours using money was "not ideal" - and expensive.