A&E waiting times in England improve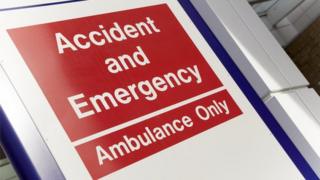 Waiting times in A&E units in England have improved to their best level since November - but the target is still being missed, figures show.
A total of 92.4% of patients were seen in four hours in the seven days up until Sunday.
The target is 95% and has been missed on a weekly basis since the start of October.
But until this latest week performance had dropped to its lowest levels since 2010. That record low is now over.
In the first week of January, performance was lower than 87% - the worst it has been since weekly records began in 2010.
During the latest week, the NHS seems to have been helped because the number of attendances has fallen.
It has been suggested that people have heeded warnings to only visit hospitals in emergencies after weeks of bad headlines.
'Huge pressures'
But Dame Barbara Hakin, of NHS England, said that while demands had "eased" the NHS was still facing "huge pressures on its frontline services".
She added: "For the second successive week there has been an improvement in A&E performance. It is encouraging.
"But I want to pay tribute to out staff for the excellent job they are doing in continuing to provide an incredibly robust response."
Nonetheless, only 29 of the 140 major hospital trusts - the overall figures include walk-in centres and minor injury units - met the target.
Some 110 met it with not data provided for one site, Colchester Hospital University NHS Foundation Trust.
There was also a rise in delayed discharges - this is where a hospital is unable to release a patient despite their treatment being completed because a lack of support available in the community.
The problem has been highlighted as a key reason for hospitals struggling in the New Year as the delays mean the flow of patients through the hospital system slows.
Other parts of the UK are also struggling. The target is being missed in Scotland, Northern Ireland and Wales - with the latter seeing the worst waits since the current way of measuring it began in 2009.