Cosmetic surgery 'popularity declines'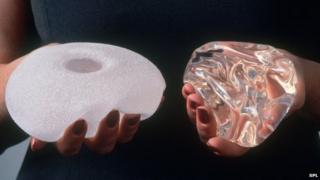 The popularity of cosmetic surgery in the UK plummeted in 2014, figures show.
The British Association of Aesthetic Plastic Surgeons (Baaps) said there had been 45,406 surgical procedures last year - down 9% from 50,122 in 2013.
Breast implants and nose jobs led the decline with operations falling by nearly a quarter.
The industry has been under intense scrutiny since a breast implant scandal and there have been calls for new rules on doctors offering surgery.
The top 10 procedures last year were:
Breast augmentation - down 23% to 8,619
Eyelid surgery - down 1% to 7,752
Face and neck lifts - up 1% to 6,402
Breast reduction - up 1% to 5,528
Liposuction - up 7% to 4,627
Nose jobs - down 24% to 3,690
Fat transfer operations - down 4% to 3,155
Tummy tucks - down 20% to 2,713
Brow lifts - down 7% to 1,978
Ear corrections - down 20% to 942
Breast enlargement is again the most common procedure among women, but eyelid surgery has overtaken nose jobs to be the most common operation in men.
Rajiv Grover, a consultant plastic surgeon and Baaps spokesman, said the PIP breast implant scandal from 2012 may partly explain the downward trend.
Thousands of women were fitted with substandard breast implants made by the French firm Poly Implant Prothese (PIP).
He told the BBC: "Last year's figures [for 2013] were inflated by the 2012 PIP crisis and a large number of people needed to have implants replaced.
"So breast augmentation figures went up artificially because of the large number of replacements."
He added that the end of the recession would have had an impact too.
"Cosmetic surgery is not a requirement, it is a desire, so during a number of years of austerity people will have put that on hold for a few years and save money."
He said there was a "boom" in 2013 as people started spending again, but that was immediately followed by a slowdown.
Looking at longer-term trends, Baaps says demand for operations has plateaued or is rising slowly after years of rapid growth up to 2008.
On Friday, the Royal College of Surgeons said doctors should be prevented from performing cosmetic surgery outside their speciality.
It told the BBC the current rules allowed "GPs to do nose jobs" and that was "a big problem" for patients.
It wants a new system of certified surgeons who have to prove they are able to perform procedures.