Food tax would fund public health, say councils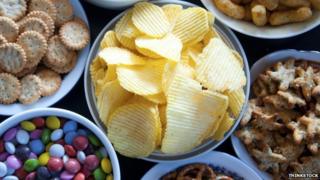 The Local Government Association is calling for a fifth of VAT raised on unhealthy foods to go back to councils to fund health and leisure facilities.
The organisation says councils do not have enough money to tackle the obesity crisis once other services, such as sexual health clinics, are paid for.
The government says councils are responsible for their own funding decisions.
And it insists progress has been made towards reducing childhood obesity.
Free swimming
In its report, Tackling the Causes and Effects of Obesity, the LGA argues that investing in preventative services would be the best way to ensure local residents were healthy.
The association says the VAT money it is calling for would create a £1bn fund to help millions of overweight and obese children across the country.
And the report suggests the cash would enable councils to expand existing schemes, such as free swimming and fitness referral programmes.
Councillor Izzi Seccombe, of the LGA and Warwickshire County Council, said: "This slice of existing money would enable local authorities to do so much more to reverse the tide of obesity which threatens to make the next generation the first to live shorter lives than their parents.
"Councils are doing everything they can to curb obesity at a local level. This extra money would enable them to ramp up their efforts and really make a major impact on tackling this condition."
But a government spokesperson said: "The government has set aside £8.2bn over three years for councils to deal with public health issues, including tackling obesity.
"Ultimately councils are responsible for their spending decisions and that's why we have given them greater financial independence so they can deliver sensible savings.
"We are already seeing progress being made, with childhood obesity levelling off, and industry working together to make everyday food and drink products healthier."
The government says it has no plans to introduce a sugar tax.