Dentists not clear about costs, says Which?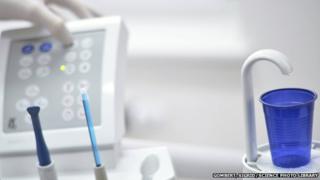 People could be paying too much for dental treatment because dentists are not being clear about their prices, consumer champion Which? has found.
A survey of 1,000 people in England found one in five was overcharged for treatment while 50% said no price list for treatment was displayed.
Which? said dentists should be "upfront with patients about costs".
The Department of Health said dentists were contractually required to display up-to-date charges.
The people surveyed had all been to see their dentist in the past six months.
While 80% said they trusted their dentist's advice on treatment, around 40% said they were not clear about what treatment they were entitled to on the NHS.
Patients should only be asked to pay one charge for a course of NHS treatment, even if that means several visits to the dentist.
Yet 19% of NHS patients said they paid more than once for the same course of NHS treatment.
There was also evidence of confusion about how NHS and private treatments differ.
'Clean-up costs'
Which? undercover researchers, who visited 25 dental practices in England, rated 12 of them as poor or very poor at explaining this difference.
Which? executive director, Richard Lloyd, said some dentists were failing to provide clear information.
"A visit to the dentist is an essential health check for millions of people across the country. Most of us will need dental treatment throughout our lives and it's important that when that happens people feel clear about the nature of the treatment and what it will cost upfront.
"We are calling on the NHS and the regulators to clean up dental costs and make sure the existing rules are put into practice consistently."
The Department of Health said dentists have a contractual requirement to display an up-to-date poster on NHS dental charges for patients.
Barry Cockcroft, the government's chief dental officer, said: "Dentists have a duty to be open and honest about payment and treatment options, always considering the best interests of their patients."
The NHS has no control over dentists providing private treatment, but all dentists are regulated by the General Dental Council.
NHS charges
There are three standard charges for all NHS treatment, known as bands one, two and three, which are set every year by the Department of Health.
Currently, these are:
Band one (£18.50): Covers examination, diagnosis (including X-rays), scale and polish (if needed), application of fluoride or fissure sealant and preventative advice
Band two (£50.50): Covers everything listed in band one, plus further treatments such as fillings, root canal work or tooth removal
Band three (£219): Covers everything in bands one and two, plus treatments such as crowns dentures and bridges.
If more treatment is needed within two months or within the same or a lower band, you do not have to pay again.
If you attend a dentist who offers both NHS and private treatment, and you need treatment, you should not be asked to pay for it privately.
However, you can choose to have the treatment privately and the dentist should explain what options are open to you.
All clinically necessary treatment should be provided by the NHS.
Tasmia Khan - who runs a practice in Manchester - says the Care Quality Commission checks that dentists are sticking to certain requirements.
"NHS England provides all dental practices posters that they should clearly display in the waiting area," she said.
"In my practice, I have leaflets that give information of the three banding system. And it's also a contractual obligation for dentists to discuss the treatment plan and what banding that the patient requires."
Mick Armstrong, the chairman of the British Dental Association, said: "It is essential that patients have a clear understanding about treatment options and costs when they visit their dentist.
"Unfortunately the rules determined by government have proved a recipe for confusion. Neither the NHS contract nor what the NHS will pay for is clear enough. It's a system that is failing patients and practitioners alike.
"In the narrow window available in a time-pressed NHS, a dentist must explain not just the technical details of clinical treatment options, but also the workings of the payment system and where the NHS and private treatment cross-over.
"With such a muddled set of arrangements, the system almost sets up the dentists working in it to fail."