Wales and Northern Ireland A&E waits 'worsen'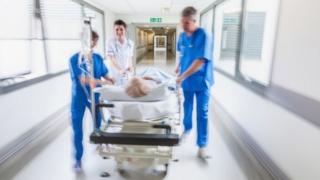 A&E waiting times in Wales and Northern Ireland have got worse in the past month - dropping well below performance in England.
Hospitals are meant to see 95% of patients in four hours.
But during December just 76.7% in Northern Ireland were, while in Wales it was 81%, a drop since November for both nations.
The figures have been published a week after data for England showed waits were at the longest for a decade.
In England 90.2% of patients were seen in four hours during December in what is proving to be one of the most difficult winters for years.
England also publishes weekly data which showed there was a slight improvement during the second week of January from the previous week.
Data for Scotland lags some way behind the rest of the UK - the latest comprehensive data is from September - although interim figures show hospitals are struggling there too.
The figures for Wales are the worst since 2009 when the current way of collecting the data began.
In all cases the figures include smaller units, such as walk-in centres and minor injury clinics. Once they are stripped out, performance is even worse.
A&E waiting times across the UK
Nation
Target
Performance all units
Performance major units only
England
95% of patients in four hours
90.2% December
85.3% in December
Northern Ireland
95% of patients in four hours
76.7% in December
73.5% in December
Scotland
98% of patients in four hours
93.5% in September
Not available
Wales
95% of patients in four hours
81.0% in December
77.2% in December
Meanwhile, the government in England has announced plans to pilot a change in ambulance response times to make better use of the service at a time of growing pressure.
Ambulance service chiefs say too many vehicles are dispatched to cases in the second most urgent category, known as Red 2, which then turn out to be less urgent.
Ambulance services are expected to respond to Red 1 and Red 2 calls within eight minutes. Instead of 60 seconds, the call handlers will now have 180 seconds to make a decision before the eight minutes begins for Red 2 in London and the south west from next month.
Before Christmas, a leaked document revealed plans to change response times which provoked criticism from Labour.
London and South West Ambulance Services will pilot the new system.
---
Moving the goalposts?
The changes to ambulance response times - or at least the time call handlers get to assess the calls - will understandably raise suspicions.
Like most of the rest of the system, ambulance crews have been struggling to meet their targets. So in the middle of the most difficult winter for a long time the idea of changing the goalposts may feel under-hand.
But it is something ambulance staff have been calling for for a while. Only about a tenth of 999 calls are genuinely life-threatening, but four times as many are treated as such.
Part of the problem is that people staffing the phone lines only have 60 seconds to make a judgement. Naturally, they lean towards being safe and dispatch more crews urgently than is necessary.
About one in five end up being cancelled before they even reach the scene, wasting valuable and tightly-stretched resources.
---
Prof Keith Willett, of NHS England, said: "We are piloting these new arrangements because on medical grounds we believe they will increase the availability of ambulance vehicles and paramedic staff.
"It's not about relaxing standards."
The move comes as new proposals on minimum staffing levels for A&E units have been put forward. The draft guidance from the National Institute for Health and Care Excellence recommends one nurse for every four cubicles.
But it said for major trauma or cardiac arrest patients, there needed to be two nurses for each patient. Currently it is up to individual hospitals to decide on numbers - but unions say there are shortages.
Royal College of Nursing general secretary Peter Carter said: "At the moment the government is treating the symptoms, not the cause.
"If more is not done to improve community services and invest in staffing across the NHS, this desperate fire-fighting will continue year after year. This crisis will not be cheap to solve, but ignoring it will cost patients dearly."